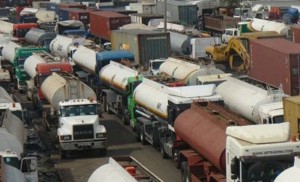 The Nigeria Union of Petroleum and Natural Oil Workers (NUPENG), on Monday said loading of petroleum products at Ejigbo and Ibadan Depots would ease the recurring gridlock in Apapa area of Lagos State.
The Chairman, South-West Chapter of the union, Alhaji Tokunbo Korodo, said in Lagos.
According to Korodo loading of petroleum products from Ejigbo and Ibadan Depots by the Nigerian National Petroleum Corporation (NNPC) would reduce the tension created by the influx of petroleum tankers on Lagos roads.
NNPC had on July 31 reopened the two depots for loading of its products, few months after resumption of loading of products commenced at Mosinmi.
"The commencement of loading at Ibadan and Ejigbo Depots is a good development now that the pipelines have been freed from vandalism.
"This is what we have been clamouring for, because the queues at the private depots in Apapa is terrible.
"In the last two years, tanker drivers have been coming to Lagos to queue for days for petroleum products and this has resulted into gridlock on roads leading to private farm tanks.
"Some of our tankers were involved in accidents due to bad roads while coming to Lagos, but the reopening of NNPC depots in Ibadan and Ejigbo will alleviate these problems.
"Now, there is no more gridlock associated with tankers loading petroleum products, as they are now getting to the filling stations on time, " he said.
The NUPENG zonal chairman urged the corporation to extend the loading to Ilorin and Ore Depots.
NNPC shut down its System 2B Pipelines Network, which supply petroleum products to its South-West depots over a year ago.
This followed incessant attacks by militants who siphoned the products pumped to the depots.
The NNPC had in 2016 stopped pumping of petroleum products through the network, thereby making use of the private depots in Apapa to distribute its products.
This arrangements had led to gridlock on Lagos roads and congestion of petroleum tankers in Apapa where all the private tank farms are located.