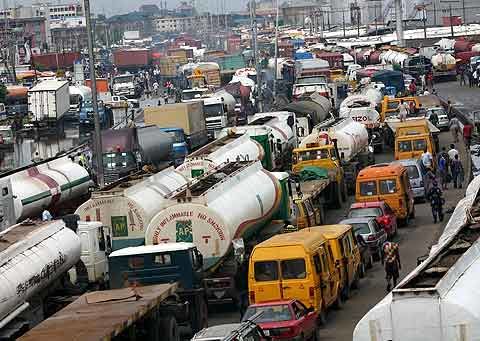 The Chairman, Lagos State Zonal Council, Nigeria Union of Petroleum and Natural Gas Workers (NUPENG), Tayo Aboyeji, has accused the military taskforce deployed to tackle Apapa gridlock of extorting members who came to load petroleum products.
Aboyeji who made the union's position known on Monday in an interview with reporters in Lagos urged the government to wade into the matter.
He called on the Lagos State Government to urgently disband the taskforce and allow the Lagos State Traffic Management Authority, the police and other security agencies to do their job in the interest of the union's members.
Aboyeji said, "I want to implore the Lagos State Government to prevail on the taskforce set up on the gridlock in Apapa to stop the extortion and harassment of our members.
"Information reaching us gives a gloomy picture of what our members are going through in Apapa.
"Our members, who go to tank farms to load products are forced to pay before they will pass to the depot.
"Those that do not have money to pay are being brutalised and manhandled before they could pass. The attitude of the taskforce should be discouraged."
On the bad state of the roads in Apapa, Aboyeji appealed to the state government to intensify repair work to ease traffic and reduce road mishaps.
"Let me appeal to Lagos State Government to please come to the aid of transporters and other motorists in the state.
"The roads that lead to Apapa are too bad. I will say they are not passable," he said while recommending palliative measures or rehabilitation of the roads.
The NUPENG boss attributed Apapa gridlock to bad roads, especially
between Mile 2 and Tincan Island Port Second Gate as well as Marine
Road at Liverpool.