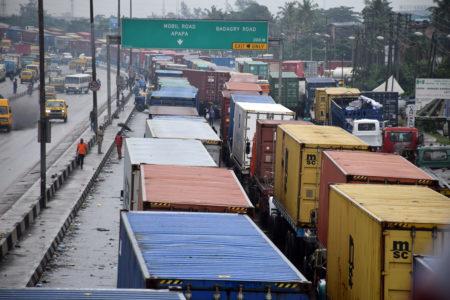 At least 30,000 metric tons of cocoa are trapped on their way to the seaports in Lagos as roads in a state of disrepair delay access to ships, according to the Cocoa Exporters Association of Nigeria. 
Travel to the Apapa and Tin Can Island ports, which previously took hours, now takes as much as four weeks as trucks struggle through cratered and water-logged roads to get there.
President of the Cocoa Exporters Association of Nigeria, Pius Ayodele, said the affected cargoes are either in traffic jams or stored in transit warehouses in Lagos.
"A greater part of this travel time is spent at the epicenter of the congestion which is just 6 kilometers (3.7 miles) to the ports," Ayodele was reported as saying in Akure.
Nigeria currently ranks a joint fifth with neighboring Cameroon among the world's biggest cocoa producers, with the International Cocoa Organization estimating its 2017-18 output at 240,000 metric tons. 
Access roads to the ports were left to decay by a succession of governments over the past two decades, now slowing everything ranging from cocoa exports to gasoline imports, escalating costs and taking a significant toll on economic activity, according to the Lagos Chamber of Commerce and Industry.
Haulage costs have gone up "about 400 percent because of the turnaround time to get to the ports, to get loaded and get out of the ports," Director General of the Lagos Chamber of Commerce and Industry, Muda Yusuf, said in an interview in Lagos. 
Yusuf said the development will either erode the profit margins of companies or get passed on to consumers.
Shipment delays are making it difficult for exporters to get credit from banks to finance their operations, according to the President of Cocoa Processors Association of Nigeria, Akin Olusuyi.
Olusuyi said 1,760 tons of cocoa butter and cake are held up in the gridlock to the ports.
"Most of them have been in the traffic to the ports for close to three weeks and are still far away from its gates.
"The cargoes that would have translated into export proceeds for us are locked up in that horrific traffic," he said. 
Farm-gate cocoa prices have dropped as purchases have slowed because of the difficulties in reaching the ports, according to local buying agents. Prices have fallen from 800,000 naira ($2,208) per ton in July to 640,000 naira, according to Wale Shittu, managing director of Agrotrack Ltd., a cocoa-buying company.
Cocoa futures closed Friday at $2,364 per ton for December deliveries, after gaining 1.16 percent from the previous day.
Source: Bloomberg