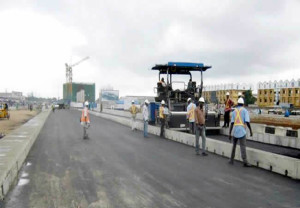 The second phase of the four- kilometre Apapa/Wharf Road reconstruction project has begun.
The road which is the major gateway to the Lagos Port Complex, Apapa, is divided into two kilometres on each bound carriageway.
Each bound carriageway is further divided into four sections for ease of construction and traffic management.
Journalists who visited the site also observed workmen laying iron rods along Section four on both the Apapa and CMS/Ijora bound carriageways.
Also, earth moving equipment were carrying out excavations on a section of the Apapa bound carriageway which is part of the second phase of the project.
A senior engineer who preferred anonymity said that work had begun on Sections One and Four on phase two of the project.
He said that the first phase of the project which is the CMS /Ijora bound carriageway was almost fully completed.
He said, "The Apapa bound carriageway is in the second phase of the project. We have started work on the inbound section that is the Apapa bound carriageway; we are working on Sections One and Four."