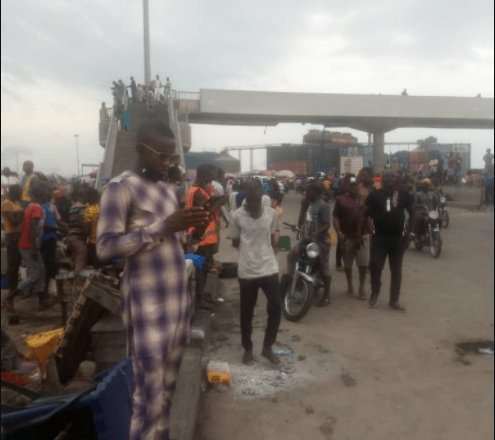 There was palpable tension around the Tin Can Island Port Complex on Friday as touts and street urchins popularly known as "area boys" or "agbero" fought for control of illegal toll collection from truck drivers on the port access road.
The face-off between two groups of the touts led to a gun duel and looting, though no life was lost.
According to an eyewitness, the fight, which broke out at the busy Tin Can Island Port Second Gate, degenerated into chaos and exchange of gunfire with policemen who tried to restore order.
"What happened is that two factions of the agberos who have been collecting money from trucks and other vehicles started fighting on who should control the area.
"They came with guns and other weapons attacking themselves. When the police came, they exchanged fire with the policemen. They pursued everybody inside the port.
"They have looted (the property of) all those people selling here. They even overpowered the police," the eyewitness told SHIPS & PORTS.
Another eyewitness named Iyabo, who sells drinks at the Tin Can Island Port Second Gate, lamented the looting of her wares and those of other traders in the area.
She said, "The area boys started fighting and they starred attacking everybody with weapons and bottles. When all of us ran away, they stole all our markets. See me now, I don't have any market again, not even the bottles."
Some truck drivers around the area blamed the police and other security officials for using the area boys to illegally collect money from truck drivers.
The Western Ports Authority Police spokesman could not be reached for comments on the development.
Copyright Ships & Ports Ltd. Permission to use quotations from this article is granted subject to appropriate credit given to www.shipsandports.com.ng as the source.