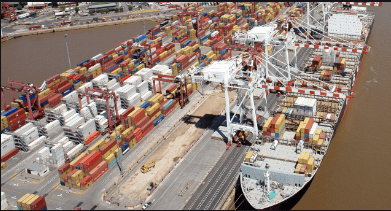 Argentina's Ministry of Transport and General Administration of Ports (AGP) has extended the concessions of the terminals for 24 months at Port of Buenos Aires, which is the only federal port in the country.
The head of the AGP, José Beni, signed with representatives of the operators, the agreements that guarantee port operations until May 2022.
The extensions will guarantee, in addition to jobs, production, and Argentine foreign trade; while progress is made with the specifications for the new call for tenders of the Port of Buenos Aires, which will have as its main purpose the modernisation and competitiveness of the country's main port.
"I want to thank the work and the predisposition of the operators, the unions and also the shipping companies to achieve this result", said the Minister of Transport Mario Meoni. "In these complex times, with the importance and essence of the work of the port family, we managed to keep the port active, moving vital products for the Argentine economy as well as for the rest of the world. The work of the AGP is key and strategic to achieve this," said Meoni.
"Thanks to the willingness of all sectors we managed to reach this common goal…The Minister of Transport Mario Meoni support and his direct involvement in resolving this situation was essential to the success of the negotiations," said Jose Beni, head of the AGP.
The Port of Buenos Aires is divided into three different operative units offering the following facilities: Puerto Nuevo: container freight station, container yard, crane, open storage; Dock Sur: mobile crane, container freight station, container yard, reefer plugs, gantry crane, pipeline, tanks, grain elevator, silo; and Puerto Sur: ferry station and dry dock.
Argentina's government announced in February it had cancelled the bidding process aimed at establishing a single concession covering all container handling at Puerto Nuevo in Buenos Aires – that is, not including Exolgan in Dock Sud.
Copyright Ships & Ports Ltd. Permission to use quotations from this article is granted subject to appropriate credit given to www.shipsandports.com.ng as the source.