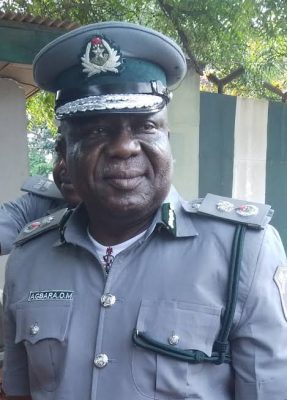 Controller, Ogun Area command of the Nigeria Customs Service, Comptroller Michael Agbara in this interview with Shulammite Foyeku, speaks on the challenges of policing the border command, call for his removal and measures taken to increase the command's revenue profile amid the closure of Nigeria's borders, among other issues.
Excerpts:
In recent times there have been series of complaint over incessant killings of innocent citizens by officers of the command while chasing smugglers in the border areas of Ogun State with some students' groups calling for your removal. Does this not bother you?
Nobody except a mad person will go and just be killing people. All the clashes that I know of, none emanated from Customs. It is people who will resist and say we cannot make arrests of contraband. That does not add up. We are doing our lawful duty and we have not gone to oppress anybody. The only circumstance we can use firearm is if an officer's life is in danger. That is the legal way. We can use persuasion when we make seizure but if that does not work, will the officer surrender his life to be killed?  We are not doing our work to please anybody but because that is what is expected of us and for the sake of the country. Last week Friday, they almost killed one of my officers at Ilase with matchet but nobody will talk about it. However, if it is the other way, there will be noise everywhere as if officers are not human beings. We are all human beings and we all have rights to life. If I want to be best man, I will allow them to continue smuggling, then the story will change. The mandate I have is for the good of the whole country. Why should a reasonable person support a smuggler? How much will they pay him? The youths should allow Customs do their work and not defend smugglers. They are economic saboteurs. So, as long as they understand and keep off when we make arrests and allow us to carry the contraband, there won't be clashes. If the owner of the goods is aggrieved, he can go to court. But the owners are faceless and will only hire youths to resist Customs. I commended some youths in Owode sometimes ago because they supported us and escorted us with seized goods. That is what is expected of the youths. We should support authority. It is not by threatening; that will not deter anybody. The students' groups wrote to the Comptroller-General not me because I did not post myself here. So, how will they occupy my command? That means they are lawless. They are our children, but they should be civil in what they are doing. If you are advising them against smuggling, you will become an enemy. Those who are talking don't even know the basic fact of the truth. If you ask them what actually happened, they don't even know. Why would anybody kill? The Nigerian students should know that what we are doing is in their interest. After school, won't they look for job? If there is no job created in Nigeria, where would they get the job? We should be patriotic. For someone who is in higher institution, he should be able to discern what is good for the country. We can feed the whole of Africa, if we put our hands together.
What is your command doing to educate the youth in border towns on the dangers of smuggling?
We talk to them often. In fact, we had planned for a sensitization workshop for the youths but then coronavirus came and because of that people could not gather so we had to postpone it. But we are not tired; we will continue to talk to them because most of them do what they do either out of ignorance or mischief. The smugglers don't bring their own children, brothers or sister to go and smuggle, they use the youths of the border community. Once we make arrest, they will lobby them to go and block officers because they give them incentives, then if anything happen, they will say Customs has killed an innocent person. That is the dilemma we are facing.
You performed well in your first quarter report, what strategies did you adopt in the face of these challenges?
The reason why our performance was not bad was because of the numerous seizures we made. Presently, there is no import and export because the border is closed. I am not expected to generate revenue but because of the number of arrests we are making, together with the national drill, we are able to generate revenue. When we seize petroleum product, we can't keep it or pour it away because they are inflammable product, so we auction them. Any revenue we get from here is proceeds from public sale of petroleum products until maybe when the border is open. We want to turn things around. We cannot export a product and take it to another country almost free of charge. Anything you import to Nigeria cannot be exported again. It is under prohibition. The other leg of the command that should have given us revenue is excise but it is not under my command.
You've spent almost two years as Controller of Ogun Customs Command. With the volatile nature of the border areas of the State under your watch do have any leisure time and how do you relax?
Firstly, I thank God for taking me this far and keeping me because this is one of the dangerous terrains in Nigeria and it has been very challenging. We have good people among the community dwellers who are friendly but the criminals among them are the ones fomenting all this trouble. So, I don't relax because anywhere you go, the next person you likely would meet might be a smuggler. I don't go out; I stay indoors most times, read books and listen to news. It is a life of sacrifice because there is no relaxation and I don't visit anyone.
Copyright Ships & Ports Ltd. Permission to use quotations from this article is granted subject to appropriate credit given to www.shipsandports.com.ng as the source.