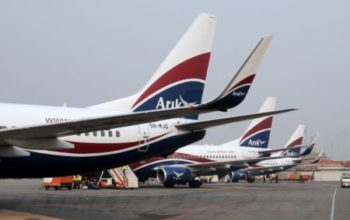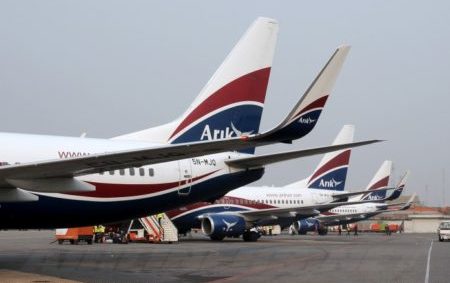 The Asset Management Corporation of Nigeria (AMCON) says it will require over N10 billion to fix Arik Airlines before the largest local carrier will resume full and uninterrupted flight operations to its regular routes across the country and beyond.
The airline was on Thursday taken over by the federal government under the auspices of AMCON over a debt profile of over N300 billion.
A statement by AMCON, signed by the management of Arik Airlines, states that the situation is so bad that only nine aircraft (30 percent) out of the 30 in the fleet of the airlines is operational. Twenty-one of them have either been grounded, gone for C-check in Europe or were facing other challenges.
"As if these problems are not enough, the airline does not have money to procure aviation fuel for the nine operational aircraft because no dealer wants to sell aviation fuel to Arik if it is not on cash-and-carry basis.
"This also calls for public understanding because flight schedules may be realigned based on the nine aircraft that are available, technically sound and ready for flight operations," the statement said.
However, the new Chief Executive Officer of Arik Airlines, Capt. Roy Ukpebo Ilegbodu, under the receivership of  Oluseye Opasanya, SAN, at the weekend reassured Nigerians that the issues, though daunting, would be gradually resolved to enable Arik Airlines, which carried about 55% of the load in the country recovered the 21 planes.
According to him, once all the aircraft are back to the fleet, Arik Airlines would within the shortest possible time regain its pride of place as a leader among the comity of airlines in Nigeria.
Meanwhile, a new flight schedule is underway for the distressed Arik Air, Daily Trust has learnt.
This may see its almost 18 destinations being pruned down drastically with the possibility of some of its international and regional flights being suspended pending the completion of maintenance of its fleet.
However, in a show of support, airline operators and Aviation Roundtable (ART) disagreed with the FG's decision, blaming it instead for allegedly killing local airlines with multiple charges.
Sources say following AMCON's intervention on Thursday, it was revealed that virtually all of Arik's trade creditors are being owed, staff salaries have not been paid for between 4-6 months, and of the 28 aircraft in Arik's fleet, only 10 are in operation.
"It appears that unlike previously recorded, Arik has debts in huge amounts, in excess of N300 billion, especially with some banks, excluding fuel suppliers, lessors and maintenance companies,"the source said.
But the Airline Operators of Nigeria (AON) and ART in separate reactions said tax overburden coupled with infrastructural decay were choking the domestic carriers.
AON chairman, Capt. Nogie Meggison, said government should look into the issue of multiple charges to save the airlines.
He said, "Ordinarily, airlines meet so many costly foreign exchange components on daily basis that accounts for 70%-80% of their direct operational cost such as Jet fuel, spare parts, insurance and simulator training among several others."
According to him, domestic airlines have become a cheap target for aviation agencies that are putting additional pains and burden on operators through multiple taxes, charges and levies which they demand from airlines with impunity.
He added, "Domestic airlines, on the average, pay about 35% to 40% of a ticket cost as taxes and charges that come under the guise of statutory levies in addition to other charges.
"These include 5% Ticket Sales Charge, 5% Cargo Sales Charge, 5% Value Added Tax (VAT), Passenger Service Charge, Charter Sales Charge, Aircraft Inspection Fees, Simulator Inspection Fees, Landing Charges, Parking Charges, Terminal Navigational Charge, Enroute Charge, Fuel Surcharge, Airport Space Rent, Electricity Charges, and Apron Pass, Ramp Access Charges, ODC and a newly imposed Registration Fee all of which are paid to government agencies."
Meggison called for the streamlining of all fees and charges by the various government agencies namely NAMA, FAAN, NCAA, NCAT, AIB and NiMET into a single window and removal of any confusion and double billing.
President of ART, Elder Gbenga Olowo, said the fate of Arik Air should not be treated in isolation, saying the ART was not surprised by what happened.