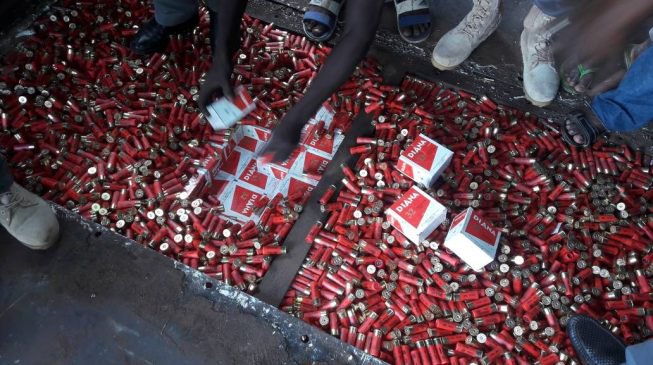 The Tin Can Island command of the Nigeria Customs Service has said that it is still working round the clock to arrest the second suspects involved in the illegal importation of arms and ammunition discovered at Five Star Logistics Terminal while vehicles were being discharged from a vessel.
The command had intercepted cache of ammunition in two separate operations on the 9th and 10th of July respectively.
According to the command, the second seizure was recovered during tally operations, while vehicles were being discharged from a vessel, MV Glovis Courage Voyage no. 036 at 0330hrs on July 10th at Five Star Logistics Terminal.
The command said a black bag was found in one unpacked Ford Edge with chassis number no 2FMDK48C98BA05947 and on examination, the bag was found to contain the following: 149 rounds of 38mm calibre live ammunition; 92 rounds of 9mm calibre live ammunition; two rounds of 7.62mm calibre live ammunition; 11 cartridges of live ammunition; 12 expended empty shells of various calibres and one empty magazine,"
Public Relations Officer of the command, Uche Ejesieme, in a chat with SHIPS & PORTS DAILY, weekend said the area controller of the command, Comptroller Musa Abdulahi has constituted an investigative team made up of the enforcement and the legal units respectively working to track down the second suspect.
"For now we have just a suspect but we are narrowing down on getting a suspect for the second seizure. It was at a point of tallying the vehicles from ships and at that point there is no way you can get anybody. But from the manifest, we are narrowing and tracking down the suspect.
"The issue of false declaration may not arise because duty has not been made and no declaration has been made, they are just bringing the car from the vessel, tallying them inside the terminal, and during tallying, the officer through vigilance was able to sight suspected items and they started to examine," he said.
On the first seizure which was recovered at Port and Cargo involving a 1/40 feet container with 150 rounds of live ammunition and 28 pieces of various sizes of jack knives, Ejesieme said, "The declarations are correct but the thing is that during the examination, we discovered illicit items in some of these declarations."
He said the suspect arrested in connection with the seizure is presently cooling his heels at the enforcement unit pending the conclusion of investigation.
When asked about the country of origin of the import and the name of the importer, the command's image maker said such move may jeopardize investigation.