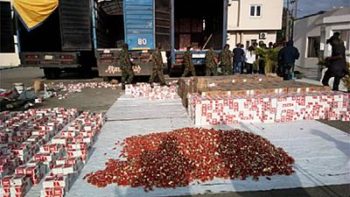 The Nigerian Army on Thursday said it intercepted three trucks loaded with 300,000 live cartridges smuggled into Nigeria from the Benin Republic.
The army said the trucks were intercepted in Igbogila-Ilara area of Ogun state.
General Officer Commanding (GOC), of the army 82 division, Enobong Udoh, made this known at a press conference in Lagos.
Represented by Brigadier-General, Olusegun Olatunde, the GOC said the army intercepted the trucks on Thursday in conjunction with some security agencies.
Udoh said the trucks, which were stopped in Balogun village, were loaded with 300,000 live cartridges.
He said, "Following a tip-off received from well-meaning Nigerians during anti-illegal bunkering, anti-pipeline vandalism and anti-smuggling patrols, on May 30, 2018, at about 2:58 am, troops of 81 division, Nigerian army in conjunction with the Nigeria police, Department of State Security, Nigerian Security and Civil Defence Corps intercepted three 5-ton trucks with vehicle registration numbers: ANAMBRA AAH 409 ZV, LAGOS BDG 782 XU and LAGOS GGF 88 XU loaded with thousands of live cartridges, at Balogun village, along Igbogila-Ilara road, Ogun state.
"The live cartridges in boxes and cartons were carefully concealed in a wooden platform with metallic plates."
The GOC said the drivers and their accomplices, on sighting the troops, abandoned their trucks and fled.
He added that while no arrest has been made, the troops are on the trail of the fleeing drivers and that the army has commenced an investigation into the incident.