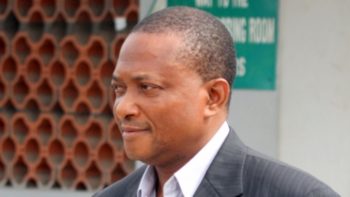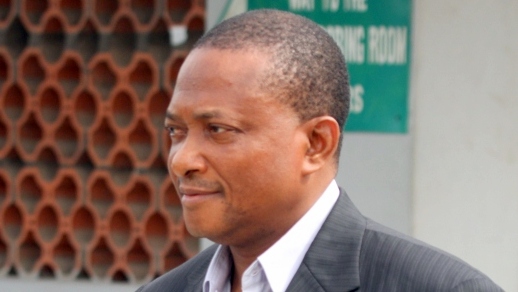 A prosecution witness, Nkem Ahidjo, on Friday, chronicled disbursement of funds at the resumed trial of Maj. Gen. Emmanuel Atewe, charged with N8.5 billion fraud, as EFCC led evidence in the trial of the accused and two others.
Atewe, former Military Commander of the Niger-Delta Joint Task Force Operation Pulo Shield, is charged alongside Patrick Akpobolokemi, former Director- General,Nigerian Maritime Administration and Safety Agency (NIMASA).
Also charged are two other staff of the agency: Kime Engonzu and Josephine Otuaga.
They are charged by the Economic and Financial Crimes Commission (EFCC) on an amended 22 -count charge bordering on fraud.
On Friday, the witness told the court that N35 million out of the N8.5 billion allegedly diverted by the accused was paid to the Living Faith Church, popularly known as Winners' Chapel.
Led in evidence by the EFCC prosecutor, Rotimi Oyedepo, Ahidjo introduced himself as an Abuja-based businessman, dealing in stationary, printing and general contracts with five companies in Abuja.
He further said that he was a registered contractor with the National Assembly, the National Population Commission and the Independent National Electoral Commission, to which he made supplies.
The businessman claimed to have known Atewe from Church in Villa, Abuja, where he said he and Atewe worshiped when the accused was a Guard Commander.
The witness said that he also attended Living Faith Church where Atewe also worshiped.
Ahidjo narrated to the court how Atewe moved to Bayelsa between July and September 2014 where he served as JTF Commander.
He said, "He invited me to Bayelsa and told me that the Federal Government gave JTF a grant for security and building of barracks and if I have any company account into which money could be paid.
"Since I knew him very well, I provided the company's account," he said.
The witness said that on his second visit to Atewe in Bayelsa, he was told that three payments were about to be made into his company's accounts and that as soon as they were made, he should acknowledge the payments and await further instructions.
He said that within two to three days of the meeting, he started to receive the payments and accordingly informed Atewe who asked him to hold on till he (Atewe) returned to Abuja.
The witness said upon Atewe's return to Abuja; he invited him to his office, where he introduced Engozu, (third accused) as the person that would take delivery of the money from Ahidjo.
Ahidjo said that owing to the volume of the monies, Engozu advised him to change the money from naira to dollar before delivery, adding that he accordingly contacted a Bureau de Change (BDC) operator.
He said that each time he received the money, he would call the BDC operator who would change it and then he would pay him the naira equivalent and take the dollars.
Ahidjo said that he received about N5 billion within the period out of which about N4.1 billion was converted to dollars and delivered to Engozu, who in turn issued a receipt for each payment, based on Atewe's instruction.
The witness said that out of the remaining amount, he was instructed by Atewe to transfer N35 million to Winners' Chapel; N103 million to INP Ltd; N170 million to First Investment Ltd; N99 million to Lord Fem Ltd; N88 million to Ocean Gas and N297 million to Cisco Nobot.
The prosecutor then asked the witness the purpose for transferring the N35 million to Living Faith Church.
The witness replied, "I don't know what it was for; it was done on the instruction of Maj. Gen. Atewe; I don't question what the money was meant for.
"It is not my money so I cannot question what it is for," he said.
After the testimony, Justice Ayokunle Faji adjourned to March 21 for continuation of trial.
In the charge, the EFCC accused the three accused of conspiring to divert N8.5billion from Operation Pulo Shield between Sep. 5, 2014 and May 20, 2015, using some companies as fronts.
The companies are Jagan Ltd; Jagan Trading Company Ltd; Jagan Global Services Ltd; Al-Nald Ltd; Paper Warehouse Ltd; Eastpoint Integrated Services Ltd and De-Newlink Integrated Services Ltd.
Copyright Ships & Ports Ltd. Permission to use quotations from this article is granted subject to appropriate credit given to www.shipsandports.com.ng as the source.