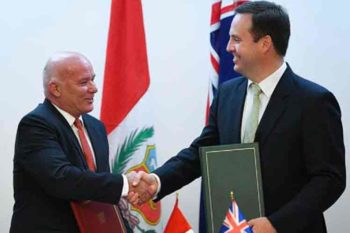 By Jite Eriabie 
Australia and Peru signed the Peru-Australia Free Trade Agreement (PAFTA) on February 12.
The deal will open the door for Australian exports to one of the fastest growing economies and regions in the world with an average growth rate of 5.9 per cent over the last decade.
PAFTA will eliminate tariffs on 99 percent of Australian goods within five years of the Agreement's entry into force. Additionally, it will deliver greater access for Australian financial, legal and other professional service operators, such as those that supply mining-related and oilfield services in Peru.
The deal will serve as a gateway to Latin America, and to value chains between Asia and the Americas. It is also a stepping-stone to a trade agreement with the Pacific Alliance (Mexico, Colombia, Chile and Peru).
PAFTA is the fastest trade agreement Australia has ever concluded, after negotiations were launched in May 2017.
The Turnbull Coalition Government is pursuing an ambitious trade agenda and agreements like PAFTA to drive economic growth and create new jobs.
The FTA was signed after eleven countries, including Australia, Brunei Darussalam, Canada, Chile, Japan, Malaysia, Mexico, New Zealand, Peru, Singapore and Vietnam, finalized their agreement on the Comprehensive and Progressive Agreement for Trans-Pacific Partnership (CPTPP) in Tokyo, Japan in late January 2018.
Expected to be signed in March in Chile, the TPP will eliminate more than 98 percent of tariffs in a trade zone with a combined GDP of USD 13.7 trillion and deliver 18 new free trade agreements between the TPP parties.
The original Trans-Pacific Partnership (TPP) was signed in February 2016, however, following the inauguration of Donald Trump as the new president of the United States the U.S. pulled out from the deal in January 2017. 
Copyright Ships & Ports Ltd. Permission to use quotations from this article is granted subject to appropriate credit given to www.shipsandports.com.ng as the source.