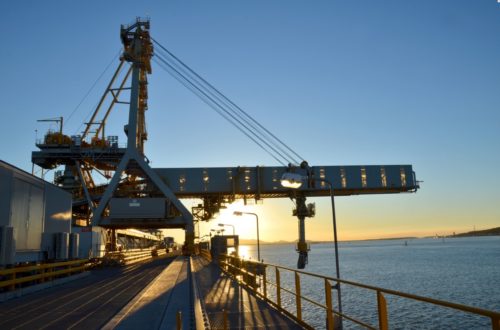 Australia's Wiggins Island Coal Export Terminal on Tuesday obtained court approval for a $3.2 billion debt refinancing plan, offering respite to its owners who would have had to start repayments this month.
The Queensland-based terminal, known as WICET, is 40 percent owned by miner and commodities trader Glencore and was built to service a
consortium of eight coal companies during a period of high commodity prices.
It will now have the maturity of $2.6 billion in senior debt extended from this month until September 2026, court documents showed.
Glencore and its four partners faced a September 30 deadline to refinance the loan or start repayments.
"WICET is presently not in a position to repay an amount of approximately $2,578 million in debt ("senior debt") which will fall due … on 30 September 2018," the court documents said.
The export terminal, which is funded entirely by debt backed by port fees, also owes A$383 million ($272.73 million) in junior debt and A$575 million in a shareholder loan, maturing in 2020 and 2046, respectively, the documents show.
The port is exporting much less than its 27 million tonne capacity as three of its original eight user-owners have folded, meaning the remaining five shippers must shoulder all of the port's debt.
As a result, charges at WICET are about $25 a tonne – about five times the port fee at the adjacent RG Tanna terminal.
As part of the refinancing, which was approved by 90 percent of the
terminal's lenders, Glencore, New Hope Corp, China's Yancoal, Coronado Coal, and Baosteel arm Aquila Resources will make higher financing repayments, the documents show.
The lending syndicate comprises around 17 banks including Australia's four largest banks, Asian and European lenders, and a couple of hedge funds, according to Thomson Reuters Loan Pricing Corp data.
WICET did not respond to requests for comment. A spokesman for Glencore declined to comment.
Glencore and seven partners began negotiations to build WICET in 2008 near the height of a coal boom, but as prices plunged, three of the partners became insolvent, leaving Glencore to foot an increasing share of the liability.
Last year, Glencore started a sale process for its Rolleston mine -which is nearby and contracted for 10.9 million tonnes per year with WICET – including its share of the terminal.
Coronado Coal, who owns the adjacent Curragh coal mine that is contracted for 1.5 million tonnes per year, is seeking to list this year.
Australia's largest rail freight operator Aurizon last year said it was in talks to buy the terminal. However, a source close to the terminal financiers told Reuters those talks are halted.
Media representatives for Aurizon did not respond to an email seeking comment on Tuesday.
"There is an industry supply chain issue there that is still yet to be solved. That provides a broad opportunity," Aurizon Chief Executive, Andrew Harding told analysts last month in response to questions about its interest in WICET.
Agency Report