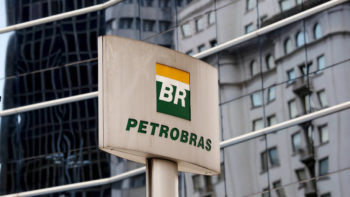 The world's three largest oil traders are competing to buy the African arm of Brazil's Petrobras that owns stakes in two major Nigerian offshore oil blocks, sources said, after submitting bids earlier this month.
Last November, state-controlled Petroleo Brasileiro SA, known as Petrobras, launched the sale of 100 percent of Petrobras Oil & Gas BV, or Petrobras Africa, as part of the heavily-indebted company's plan to offload $21 billion in assets through 2018 as it also faces a massive corruption scandal.
Petrobras holds half the shares in the company while 40 percent are held by a subsidiary of Grupo BTG Pactual SA and 10 percent by Helios Investment Partners.
Bankers have previously estimated the value of the Petrobras venture to be about $2 billion.
The venture has stakes in two offshore blocks that contain two producing fields, the major Agbami field in OML 127, operated by a local Chevron affiliate and the Akpo field in OML 130 operated by Total SA.
The sale has attracted the top trading firms which are always on the hunt for long-term crude supplies. Mercuria and BP had also its potential.
In early May, three consortiums including the major trading companies submitted bids to buy Petrobras Africa.
Vitol bid together with the oil upstream subsidiary of U.S. private equity firm Warburg Pincus called Delonex and Canadian-listed Africa Energy Corp, an oil and gas exploration firm that is part of Sweden's Lundin Group.
Glencore joined with Nigerian listed firm Seplat and French firm Maurel & Prom that is majority-owned by the Indonesian government. Indonesia's state oil firm, Pertamina, also backs Maurel & Prom and owns a 20 percent stake in Seplat.
The third bidder was privately-held Famfa Oil together with Royal Dutch Shell.
Famfa Oil is one of the concessionaires in the operator of the Agbami oil field along with Chevron, Statoil and Petrobras. Chevron holds the majority stake.
Vitol, Glencore, Shell, Africa Energy declined to comment. Maurel, Famfa and Seplat did not respond for requests for comment.
Petrobras is expected to make a decision by the end of May. But sources said that this could slide as there was a still a possibility that the bids might be split between the two oil block stakes.
Agbami produces about 240,000 barrels per day (bpd) while the Akpo field in OML 130 produces nearly 130,000 bpd with a second field Egina due to come on-stream in the same block later this year.
Agency Report