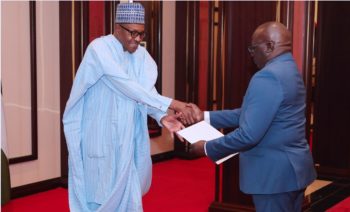 President Muhammadu Buhari has pledged to continue to work with member-countries of the Economic Community of West African States (ECOWAS) to ensure stability in the sub-region.
According to a statement on Thursday by his Special Adviser on Media and Publicity, Femi Adesina, Buhari made this known while receiving Letter of Credence from the Ambassador of Guinea Bissau, Henrique Da Silva, at the Presidential Villa, Abuja.
The president noted that the synergy became necessary as cross-border crimes pose more challenges to people and governments in the sub-region.
He said, "ECOWAS is doing its best, and as you know, Nigeria is fully involved in the process of restoring stability in Guinea Bissau."
Buhari said the relationship between Nigeria and Guinea Bissau had always been healthy, noting that as the country regains its stability, there would be more room for improvement.
In his remarks, the Ambassador of Guinea Bissau said his country remained grateful for all the support it received from Nigeria during the prolonged political crisis.
He said, "We are very grateful for your commitment to ensuring peace in Guinea Bissau and your soldiers have been in our country to ensure stability," the Ambassador said.
The President, who also received Letter of Credence from the Ambassador of Thailand, Wattana Kunwongse, said Nigeria and Thailand had a lot to share in the ongoing effort to diversify the economy, with focus on the agricultural sector.
He said, "Our relationship has been very long and very commendable. We appreciate the help we get in agriculture from Thailand and we will keep working together."
The Ambassador of Thailand said Nigeria's position as a "regional power" puts it in the spotlight for the recovery and stability of Africa.
"Under your leadership and guidance, we believe the economy will recover and the entire country will be strengthened," Kunwongse said.