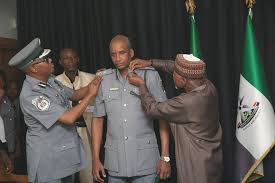 The Katsina/Kaduna Customs Command of Nigeria Customs Service (NCS) on Thursday decorated 33 officers recently promoted with their respective new ranks.
The Command's Area Controller, Comptroller Olusemire Kayode, while speaking at the decoration ceremony, charged the newly promoted officers to redouble their efforts as elevation to new rank comes with greater responsibilities.
Kayode noted that the NCS is reinvigorated in line with the Controller-General principle of dedication to service and commitment to work adding that officers and men must key into the new drive of reducing smuggling to barest minimal level.
He said, "To those of you who are yet to be promoted, it is not the end of the world, it is an ongoing process, don't feel left out, to those who are, see your promotion as a call to more duties."
He said the ongoing fight against smuggling must be vigorously pursued and called on the people to understand that smuggling kills a nation and must be stopped.