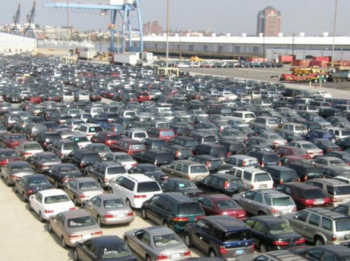 The Federal Government has been advised to re-view the automotive policy, which imposes 70 per cent levy on imported vehicles, pending the mass production of made-in-Nigeria vehicles.
The Chairman, Auto-dealer Association in Owode Area of Ogun State, Samuel Johnson said the levy introduced by the regime of former President Goodluck Jonathan to support the local industry was yet to yield the expected results before the Federal Government ban the importation of vehicles through the land orders.
Nigerians, Johnson said, were paying 20 per cent duty on imported vehicles before the last administration suddenly introduce 35 per cent duty on imported vehicles.
He urged the government to slash the rate on new vehicles by 35 per cent to make the seaport a hub in the ubregion.
High port charges and poor access road to the Lagos ports, Johnson said, contributed immensely to the diversion of cargoes to neighbouring countries' ports, thus, leading to loss in government's revenue.
"It is not enough for the government to ban the importation of vehicles through the land borders. The Federal Government needs to review the auto policy, fix the Apapa road and make the port attractive for business. The maritime sector is confronted with many problems that need to be addressed to boost trade and generate employment," he said.
The Secretary of the group,  Dele Adeyemo said the ban on imported vehicles through the land borders would have positive effect on the economy if Nigerians are encouraged by the government to patronise the seaports.
Nigeria, he said, has a huge porous borders that need to be manned adequately, to checkmate the activities of the smugglers.
Also, the Shippers'Association Lagos State (SALS) has urged the the government to assist shippers to reduce the costs of doing business at the seaports.
Its President, Jonathan Nicol, lamented that the high port charges had affected the costs of doing business in the country.
He said: "We have a very big problem in the maritime sector. We believe that the government will stick to the maritime sector as one of the most important aspects of the nation's economy.
"This will enable other Nigerian shippers who have gone to the neighbouring ports to come back."