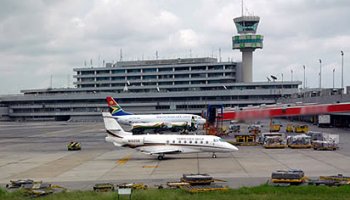 A Nigerian aviation expert on Tuesday condemned the proposed plan to grant tax relief to Nigerian airline owners and operators.
John Ojikutu, an aviation expert and former military commandant at the Lagos airport, said government should be wary of supporting airline owners with public money that could be channelled to other social causes.
Earlier, the Chairman of Airline Operators of Nigeria (AON), Nogie Meggison, had appealed to the government to take a closer look into the issue of VAT for domestic air transportation in Nigeria.
Speaking in a meeting with the Chairman of the Federal Inland Revenue Service, FIRS, Babatunde Fowler, Meggison had noted that if VAT was to be removed, it will make fares affordable for passengers with fewer funds to fly, thereby increasing turnover generated by airlines.
"Accra has become the hub for doing business in West Africa today due to the fact that Ghana has adopted a deliberate economic policy to make Accra a hub for West Africa," he had explained.
"And as a way of achieving this, it has adopted zero VAT for air transportation and lowered taxes on Jet A1 by 25 per cent which attracts more airlines to fly into the country for technical stops and for connections to cities around the world."
In his reaction, the FIRS boss had pledged to support domestic airlines to ensure they remain in operation and are able to meet their Value Added Tax (VAT) remittance obligations.
"The Federal Government recognised the challenges being faced by domestic airlines and was willing to meet them half way with regards to tax laws," Fowler had said.
Fowler further advised the AON to engage the Presidency through the department on the ease of doing business, the Senate and the Minister of Finance to dialogue on how the laws could be amended.
But commenting on the development Tuesday morning, Ojikutu said the plan, if implemented, is in the wrong direction since most of the airlines are owned privately.
"There they go again, they got government aviation intervention funds to pay off bank loans; they once in 2008 got concession on recurring debts owed government agencies; government conceded to them zero duties on imported spares; they got concession to obtain foreign exchange from CBN at official rate, and now government is considering tax reliefs for them," he said in an interview with newsmen .
"They and their proxies in government often forget that they are privately owned and mostly single ownership and not publicly owned enterprises that need regular government intervention for sustenance," Ojikutu added.
The aviation expert advised the airlines to consider mergers in the alternative, saying public funds should rather be channeled to other pressing demands of government.
"Let these airlines merge and go to the NSE market for public fund and for public participation," he noted.
"They need to make their financial statement transparent and public.
"We cannot continue to feed them with public money that should go to other social services that will benefit majority of our people. Enough is enough."
Copyright Ships & Ports Ltd. Permission to use quotations from this article is granted subject to appropriate credit given to www.shipsandports.com.ng as the source.