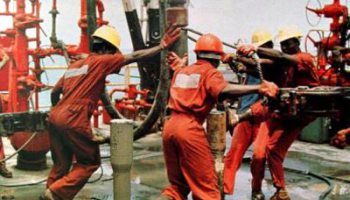 Nigeria's rig count has reduced by two as the total rig count for the month of May went down to 27 as against 29 recorded in April, latest data from the Organisation of Petroleum Exporting Countries (OPEC), shows.
It shares a similar fate with OPEC rig count, which decreased by three, as it recorded 567 in May, as against 570 recorded in April.
Out of the 13 OPEC members, Iraq, Ecuador and Kuwait had increased rig count. Iraq, the highest among the group, had its rig count increased by five, as it recorded 51 in May, as against 46 in April.
Ecuador had 9 in May and 7 in April, while Kuwait had 55 in May, as against 53 in April.
Leading the group in the reduced rig count is Algeria, which had 53 in May, as against 57 in April.
This is followed by Qatar, which recorded 10 as against 12, while Venezuela recorded 96 as against 98, recorded within the period under review.
United Arab Emirate had 50 as against 51, while Angola recorded 3 as against 4 recorded within the period under review.
World rig count saw an increase of 16, as it had 2,015 in May as against 1,999 in April.
Total rig count for other oil producing countries from Africa showed an increase of 2, as they had 19, as against 17, within the period under review.
For Middle East countries, there was a decrease of 3, as they had 74 as against 77, while other Asian countries had a decrease of 7, having recorded 179, as against 186, within the period under review.
Latin American countries had plus 7 in their rig count, as they recorded 62 in May, as against 55 recorded in April.
United States is in the pole position, having an increase of 40, as it recorded 893 in May, as against 853 in April, while Canada had a decrease of 24 after recording 85 as against 109, within the period under review.
According to the data, OPEC crude oil production in May increased by 336 thousand barrels daily, tb/d, from the previous month to average 32.14 million barrels daily, mb/d.
The data also showed that crude oil output increased the most in Libya, Nigeria and Iraq, despite the decrease in rig count, while production in Angola and United Arab Emirate showed the largest declines.     
Copyright Ships & Ports Ltd. Permission to use quotations from this article is granted subject to appropriate credit given to www.shipsandports.com.ng as the source.