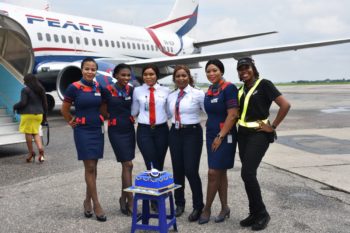 Executives from top aerospace and aviation companies called on Thursday for stepped-up efforts to attract more women.
They said this could help solve looming shortages of pilots, mechanics and top managers in the traditionally male-dominated sector.
The industries are coming under scrutiny because of the low numbers of women employed as senior executives or airline pilots. At the same time, a growing shortage of pilots is putting the sector's recent growth at risk.
The Head of Qatar Airways, Akbar Al Baker, caused a storm last month when he said that a woman could not do his job, although he later apologized, saying his comments had been intended as a joke and were taken out of context.
Charlotte Pedersen, Chief Executive of Luxaviation Helicopters, a private aviation operator, said urgent action was needed since the sector faced a potential "huge gap" in management capacity in a decade as current executives retired.
"We can't just recruit from half the population," Pedersen, the first female pilot in the Danish air force, told a panel discussion at the Farnborough Airshow.
Marnie Munn, an airline captain with easyJet, told the conference that only three to four percent of pilots globally were women.
Jane Basson, Chief of Staff to Airbus CEO Tom Enders, said women now accounted for 17.5 percent of the company's workforce of 140,000 but that was just a tick up from 15 percent in 2005.
"It's not progressing fast enough," she said, adding that her company was now using data analysis tools to understand why it was proving so difficult to recruit and retain women.
In addition, she said Airbus was using tools such as smartphone applications to provide encouragement and support to workers but could tailor those to reach women specifically.
Hundreds of industry executives attended the panel, with many signing a UK charter that commits organizations to support promotion of women to senior roles, set their own targets and report on their progress to boost accountability.
More than 50 aviation and aerospace companies with operations in Britain have signed the charter, and the number is growing, said Katherine Bennett, a senior vice president with Airbus. It is modelled on a similar pledge in the finance sector.
Signatories also agree to have a senior executive oversee diversity efforts, and to link pay of senior executives to meeting internal targets on gender diversity and inclusion.
Agency Report