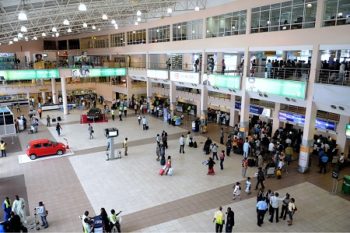 By Bolaji Akinola
The motor park mentality, which is a recipe for chaos, has found its way into our airports. It has always been there but current trends reveal it is assuming a worrisome proportion.
Travellers will readily attest to irritating solicitations by all sorts of characters canvassing patronage or gifts at the airport's screening point, passengers' waiting area and in the toilet. These undue solicitations happen at even the very best of our airport terminals.
For instance at the upscale MM2 in Lagos, the solicitation starts right from the screening point. The airport security officials at the scanning point, in their usual patronizing way will greet an intending passenger, and immediately follow such greeting with phrases like "anything for me?"
Of course it is beyond them to force anyone to part with "anything" but this begging is unbecoming and is becoming a huge national embarrassment
Why would a security official of the Federal Government of Nigeria descend so low to the level of using street language, begging for gifts from travellers? This happens to me every time I travel, just the way it happens to other passengers. Last week on my way to Abuja, a fellow passenger was compelled to call one of the airport officials to order when his action moved on to the verge of almost forcing a Chinese to part with "something" at the screening point. This begging for "something" is also a common feature of the international wing of the airport.
Immediately after the screening point, it is not unusual to be approached, the way it happens at motor parks, by marketers asking you to buy one product or the other. The other day, while I had barely worn my shoes and belt, which we were compelled to remove before passing through the scanning machine, a lady approached me with a flyer asking me to check my weight and vital statistics. I did not need any details of her service so I declined, as politely I could. I had some correspondences I needed to treat so I looked for a quite area to sit.
I had barely opened my laptop when a young man walked up to me and tried to sell me on another medical check up.
"Sir, are you waiting for your flight?" he asked.
What a dumb question, I thought in my mind, but kept my comment to myself as I glared up at him. What else could I be doing here?
Without any regard for my disinterest, he started explaining the importance of regular medical check up and how it is important to take one now that I had free time.
I do not suffer fools gladly.
"I am not interested," I said curtly. He scampered away hurriedly with his tail between his legs. I returned to my work.
I was relishing my moments of peace until another middle-aged man approached me.  He was holding a flyer. He immediately took the empty seat opposite me and stretched the flyer towards me.
I lost my cool and before he could utter a word I said, "Why do you like harassing people here? Don't you have shops? Don't you know that anyone interested in your products will walk over to your shop?"
The man obviously did not know that he had done anything wrong. He appeared perplexed. I don't blame him. I suppose the policies did not define the extent to which they could go in seeking patronage. As I was about return to my work, the flight was announced.
On my way back the following day, this time at the domestic wing of the Nnamdi Azikiwe International Airport, Abuja, I was pressed and decided to use the loo before boarding the return flight to Lagos.
You typically meet a horde of young men when you enter the toilet facilities at our airports. As a frequent flyer, I know this is common to all of them without exception. The men, who I suppose were employed to keep the facilities clean, have turned to making brisk business through solicitations.
Immediately you enter, they greet you and ask you if you want to pee or shit. What impudence! They then hand you tissue paper to use in the toilet or clean your hands. Some even offer to hold you luggage! They are all over you. Even when you want to wash your hands, they quickly dash across to help you open the tap as if it were some device beyond your comprehension.
"Don't worry I can open the tap myself," I told one who stayed close to me all through my time at the urinal. Where is the place of privacy, for crying out loud?
I heard a couple of other passengers using the gents also complain aloud. These boys do not need to be all over the people who visit the gents. Hang the tissue paper boys; you don't need to hold them. Keep the hand sanitisers and disposable napkins right where they should be. Keep the place clean and stay out. Don't help anyone open the water tap; it's not your job.
Perhaps the same thing also happens at the lady's.
Again, one cannot but draw the analogy between our airports and those in other climes where people don't harass you with their wares or solicitations. Where in the world do you see people peeping over you in the toilet? These backward practices must be dispensed with.
Copyright Ships & Ports Ltd. Permission to use quotations from this article is granted subject to appropriate credit given to www.shipsandports.com.ng as the source.