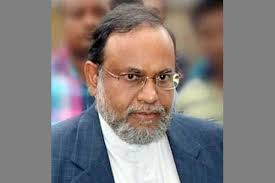 Mir Quasem Ali, a Bangladesh shipping tycoon and key leader of the Jamaat-e-Islami party, was today hanged at a high security prison outside the capital Dhaka after he was convicted of offences committed during the 1971 war of independence.
"The execution took pace at 10:35 pm (1635GMT)," a prison official said.
A key leader of the Jamaat-e-Islami party, Ali faced the gallows after being convicted by a controversial war crimes tribunal for offences committed during the 1971 independence conflict with Pakistan.
After the Supreme Court rejected his final appeal against the penalty on Tuesday, Ali declined to seek a presidential pardon, which would require an admission of guilt, paving the way for his execution.
Ali was a key commander of the notorious pro-Pakistan militia in the southern port city of Chittagong during the 1971 war, and later became a shipping and real estate tycoon.
Past convictions and executions of high-profile Jamaat leaders have triggered violence in Bangladesh, which is polarised along political lines.
"All along he said he was innocent. He said he is being killed unjustifiably," said Tahera Tasnim, one of Ali's daughters after 23 members of his family went to meet him in jail before his execution.
The Supreme Court's decision to reject Ali's appeal was a major blow for the Jamaat-e-Islami party, which the 63-year-old tycoon had helped to revive in recent decades.
Five opposition leaders including four leading Islamists have been executed for war crimes since 2013. Ali is the last prominent Islamist leader to face execution.
The war crimes tribunal set up by the government has divided the country, with supporters of Jamaat and the main opposition Bangladesh Nationalist Party (BNP) branding it a sham aimed at eliminating their leaders.
Ali was convicted in November 2014 of a series of crimes during Bangladesh's war of separation from Pakistan, including the abduction and murder of a young independence fighter.
His son Mir Ahmed Bin Quasem, who was part of his legal defence team, was allegedly abducted by security forces earlier in August, which critics say was an attempt to sow fear and prevent protests against the imminent execution.
The Islamist party, which is banned from contesting elections, has labelled the charges against Ali "false" and accusing the government of exacting "political vengeance".