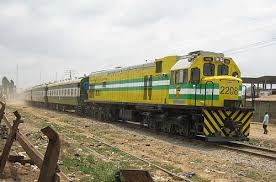 The Nigeria Railway Corporation (NRC) on Saturday resumed its Cattle Cargo Services.
Lagos Railway District Manager (RDM) of NRC, Jerry Oche, said 510 cattles were moved from Gusau in Zamfra to Lagos.
Oche said: "Today, we are happy by the resumption of our cattle cargo services after such a long time.
"`We moved 510 cattle from Gusau in Zamfra to Lagos; and hope to do two or three trips weekly."
Managing Director, Connect Raul Service, Edeme Kelikume, told journalists that moving cattle by rail over such a long distance was faster, cheaper and safer.
"The cattle traffic started by 3a.m Friday and before 4p.m Saturday they will be in Okooba in Agege area of Lagos.
"90 of the cattle have been dropped at Abeokuta and 420 would be received in Lagos.
"Transporting animals by rail ensures they are protected from the exposure to sun or rain as would have been the case if they were moved by trucks.
"We have two veterinary doctors on board and enough food and water for the animals,'' he said.