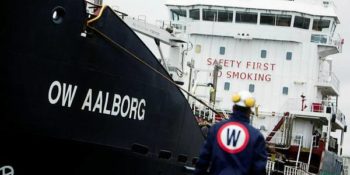 By Jite Eriabie 
A consortium of 24 Danish institutional investors is launching legal action against the issuing banks Morgan Stanley and Carnegie in the action for prospectus liability for OW Bunker that went bankrupt in 2014.
Specifically, the investors claim that they suffered a loss of DKK 767 million (USD 123 million) following their investment in shares in OW Bunker on the basis of the prospectus which was deemed "insufficient in material aspects."
"The consortium has decided to extend the group of defendants to include the issuing banks Morgan Stanley and Carnegie. This decision is based on new information in extensive exhibits from the bankruptcy estate, which we were given access to only this spring. We believe that the banks knew about OW Bunker's speculative activities and that the banks contributed to misleading investors. Against this background, we believe that they may be liable to pay damages," Tomas Krüger Andersen, Head of Legal, Investments, ATP said.
The company filed for bankruptcy only six months after its IPO.
In December 2014, a number of Danish institutional investors, including ATP, PensionDanmark and Danske Invest, among numerous others, launched an investigation into OW Bunker's bankruptcy with the purpose of determining whether there was a basis for claiming legal liability.
"The investigation focused on errors and deficiencies in the prospectus prepared in connection with the IPO of OW Bunker, liability in connection with the offer and sale of shares in OW Bunker as well as management liability in connection with the operation of OW Bunker," ATP noted.
Based on the conclusions of the investigation, in early April 2016, the Danish institutional investors brought legal proceedings with a view to obtaining compensation and determining responsibility. The action is pending before the Danish Eastern High Court.
The latest legal dispute is just part of the legal saga OW Bunker got entangled in since going under.
In July 2017, a former director of a Singapore subsidiary of the bankrupt fuel supplier was charged by Danish prosecution office for a breach of trust worth over DKK 800 million (USD 122 million).
The prosecution office initiated an extensive investigation into the circumstance surrounding the demise of the OW Bunker Group in November 2014.
The investigation found that there were grounds for initiating criminal proceedings against the former director of a Singaporean subsidiary of OW Bunker Group, along with the management representatives from the Danish parent company OW Bunker A/S.
To remind, the company's financial demise was prompted by an alleged fraud committed by senior employees in its Singapore-based subsidiary Dynamic Oil Trading (DOT).  
Copyright Ships & Ports Ltd. Permission to use quotations from this article is granted subject to appropriate credit given to www.shipsandports.com.ng as the source.