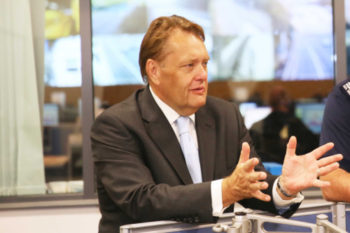 By Jite Eriabie 
Encouraging more women into seafaring careers will help the United Kingdom improve its skills base, especially as shipping becomes more technologically advanced, the country's shipping minister said.
"All of [the UK maritime sector's] expertise depends on the endeavour of the workforce – the skills and the capabilities of legions of people who make the maritime industries what they are," John Hayes CBE MP, UK's shipping minister, said while speaking at WISTA's conference during London International Shipping Week.
The International Transport Workers' Federation (ITF) estimates that women make up only 2% of the world's maritime workforce, "and those figures are replicated here in the UK too," the minister said.
Of the 14,350 officers in the UK, only 3% are women, while only 4% of the country's technical officers are women. Furthermore, of the 6,500 engine officers, only 1% are women.
"Unless we can get the message broadcast loud and clear and persuasively to young people that maritime industries are a place of choice, a place where they can build their futures, and unless we can redouble that effort with young women and encourage them to take options and pursue paths that will allow them to take advantage of those opportunities, we won't be doing what is necessary to provide them with what they deserve but also to provide our industries, our economies, with what it needs," Hayes added.
Technological change is inevitable and will shape the industry and the skills required of those it employs, he said, citing recent advances in vessel autonomy as an example, which will create demand for a more diverse set of skills.
"I want the UK to become a global leader in the field of autonomous ships. At the IMO, we are already leading work to identify and deliver regulatory changes with regards to autonomous vessels and we know that we also need to understand whether our infrastructure is able to cope with the challenges and opportunities that these vessels will doubtless present," he went on.
Hayes said the industry must lead the advance towards autonomy and that the expertise of the maritime sector would become ever more important in doing so.
"So it's high time that the gender balance in this industry shifted too."
"Let's make 2018 the year the scales tip in favour of women in shipping. Let's make a difference in that year of engineering that each and all of us can be proud of," Hayes concluded.  
Copyright Ships & Ports Ltd. Permission to use quotations from this article is granted subject to appropriate credit given to www.shipsandports.com.ng as the source.