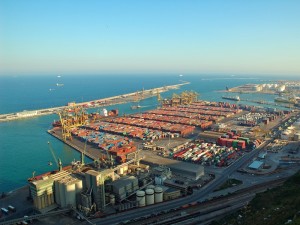 The port of Barcelona closed last year with unprecedented figures. The transport of shipping containers rose by 14.5% with a record figure of 2.2 million TEU containers handled.
This according to the data presented on Tuesday by the Port President, Sixte Cambra, who said that exports rose by 3.8% while imports increased by 8.7%. The Asian-Oceania market now represents 77% of imports and 43% of exports from the port. In fact, China alone accounts for 43% of the import containers, with a 13% increase during 2016. It is also to China that most of the exporting containers go. The American market represents 25% of exports and 9% of imports from the Port of Barcelona. Catalan exports being handled from the Port of Barcelona are mainly food, equipment and chemicals. Imports are basically textiles, equipment and other manufactured products.
In 2016, the Port of Barcelona also reached record levels in the handling of cars. Up to 916,834 vehicles were handled from the installations, a 4% increase in comparison to 2015. Car exports rose by 3%, while imports grew by 20%.
Passengers
But not only freight volumes hit a record high in Barcelona in 2016. The Catalan port also experienced an historic number of passengers, almost 4 million, a yearly increase of up to 6.5%. According to the Port of Barcelona, passengers coming to Catalonia by cruise or ferry spend about 875 million euros in the country, generating an added value of 457 million and supporting 7,518 jobs.
Economic results
The President of the Port of Barcelona explained that the installation is the most profitable in the whole of Spain, generating €33.2 million in profits in 2016, with a cash flow of up to €86.2 million. The Port invested €25.9 million in different projects, including the new train access, the new terminal of the Moll Prat and the urbanisation of some areas. For 2017, the Port has an investment budget of up to €25.9 million, which will be used for works on the train connections and the intermodal station, amongst many other projects.
Copyright Ships & Ports Ltd. Permission to use quotations from this article is granted subject to appropriate credit given to www.shipsandports.com.ng as the source.