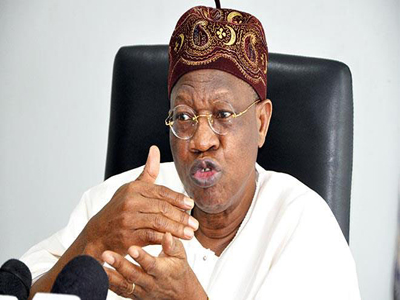 The Federal Government is searching for not fewer than 110 container
loads of power equipment out of the over 800 containers allegedly abandoned at various ports by the previous administration.
The Minister of Information and Culture, Alhaji Lai Mohammed who disclosed this on Thursday in Abuja while featuring on a Radio Nigeria programme, Politics Nationwide', said government so far has retrieved 690 of the containers.
"As of today, we have been able to retrieve 690 of the containers," he said, noting that about 800 containers were abandoned because the previous administration did not pay the contractors.
"You will remember that about 800 containers of power equipment were
abandoned at the ports because the previous administration did not pay the contractors and they abandoned the equipment there.
"Despite the shoddy privatisation process of the power generation companies (GENCOs) and power distribution companies (DISCos) by the previous government, the President Muhammadu Buhari's administration had taken pro-active measures to improve on electricity.
"When we came in 2015, we found out that many of the beneficiary companies of the privatisation process were undercapitalised, unequipped and they lack the necessary expertise.
"We however resisted the temptation of cancelling the privatisation of the GENCOs and DISCOs in order not to send wrong signal to the investing world.
"What we met on ground was very chaotic because the gas suppliers said they would not supply the GENCOs with gas because GENCOs were not paying.
"The GENCOs said they would have loved to pay but the DISCOs were not
paying them," he said.
To salvage the situation, Mohammed said the government set aside a N7.1
billion-payment assurance programme.
He said the programme guaranteed that as long as the gas suppliers supplied gas and GENCOs generated power for distribution, the government would pay them.
Mohammed said the policy led to increase in power generation from about
4,000 megawatts they met in 2015 to more than 7,000 megawatts being generated currently.
He disclosed that government had made intervention fund available for the take off of the 3,050 megawatts Mambilla hydroelectric plant project, which would commence in early 2019.
The minister disclosed that the 2.4 megawatts solar power project in Katsina would be commissioned in few weeks.
Mohammed said that the total capacity for power transmission in 2015 was
4,000mw, which the Buhari government had increased to 7,125mw in three
and half years.
He said the government was able to achieve that by improving the connectivity between the GENCOs and the DISCOs.