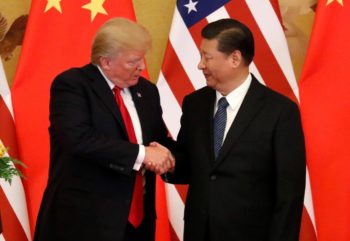 U.S. President Donald Trump pressed China to do more to rein in North Korea on Thursday and said bilateral trade had been unfair to the United States, but praised President Xi Jinping's pledge that China would be more open to foreign firms.
On North Korea's nuclear and missile programmes, Trump said "China can fix this problem quickly and easily", urging Beijing to cut financial links with North Korea and also calling on Russia to help.
Trump was speaking alongside Xi in the Chinese capital to announce the signing of about $250 billion (190 billion pounds) in commercial deals between U.S. and Chinese firms, a display that some in the U.S. business community worry detracts from tackling deep-seated complaints about market access in China.
Xi said the Chinese economy would become increasingly open and transparent to foreign firms, including those from the United States, and welcomed U.S. companies to participate in his ambitious "Belt and Road" infrastructure-led initiative.
Trump made clear that he blamed his predecessors, not China, for the trade imbalance, and repeatedly praised Xi, calling him "a very special man".
"But we will make it fair and it will be tremendous for both of us," Trump said.
Xi smiled widely when Trump said he does not blame China for the deficit and also when Trump said Xi gets things done.
"Of course there are some frictions, but on the basis of win-win cooperation and fair competition, we hope we can solve all these issues in a frank and consultative way," Xi said.
"Keeping opening up is our long-term strategy. We will never narrow or close our doors. We will further widen them," he said. China would also offer a more fair and transparent environment for foreign firms, including U.S. ones, Xi said.
Agency Report