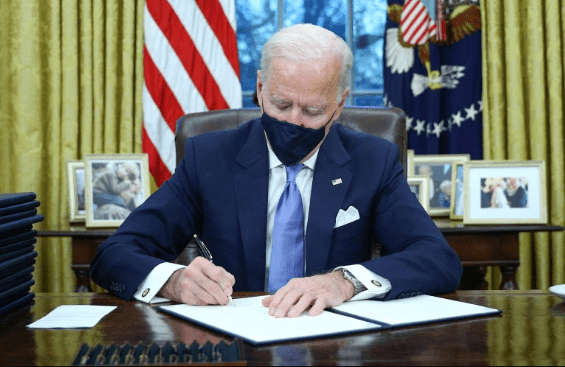 The Biden Administration has announced a set of actions to combat illegal, unreported, and unregulated (IUU) fishing that the White House says is significantly contributing to global overfishing and the collapse or decline of fisheries.
President Biden on Monday signed a National Security Memorandum (NSM) on IUU fishing and related harmful fishing practices, recognising the issue as a national security threat.
"Distant water fishing vessels, which engage in industrial-scale fishing operations on the high seas and in waters under other states' jurisdictions, can be significant perpetrators of IUU fishing and related harmful fishing practices," the White House said in a Fact Sheet.
"IUU fishing often involves forced labor, human trafficking, and other crimes and human rights abuses. Left unchecked, IUU fishing and associated labor abuses undermine U.S. economic competitiveness, national security, fisheries sustainability, and the livelihoods and human rights of fishers around the world and will exacerbate the environmental and socioeconomic effects of climate change."
The Biden Administration aims to address IUU fishing by increasing coordination between both public and private entities in the U.S. and abroad and directing the government to use the the full range of "existing conservation, labor, trade, economic, diplomatic, law enforcement, and national security authorities" to address some of the biggest challenges with IUU fishing, such as forced labor, international collaboration, and ethical behaviour within the global seafood industry.
During this week's U.N. Ocean Conference, the Biden-Harris Administration will launch an IUU Fishing Action Alliance with the UK and Canada, pledging urgent action to improve monitoring and surveillance of fisheries and increase transparency in the market, as well as hold "bad actors" accountable.
China, boasting the world's largest fishing fleet, is perhaps the biggest perpetrator of IUU fishing globally, but was not specifically identified by the White House.
According to the U.S. Coast Guard, the nation's top law enforcement agency for IUU fishing, approximately 1 in 5 fish caught around the world is thought to be the result of IUU fishing, costing legal fishers tens of billions of dollars per year in lost revenue.
The U.S. National Oceanic and Atmospheric Administration (NOAA) is also being directed to propose issue a proposed rule to enhance and strengthen its ability to address IUU fishing activities and combat forced labor in the seafood supply chain. The rule will enhance NOAA's ability to implement the Agreement on Port State Measures to Prevent, Deter and Eliminate Illegal, Unreported and Unregulated Fishing and the High Seas Driftnet Fishing Moratorium Protection Act by proposing a broadening the scope of activities that NOAA can consider when identifying nations that engage in IUU fishing to be more consistent with UN policy.
The IUU fishing announcement is the latest action the Biden Administration has taken to coincide with National Oceans Month. Others have included initiating the designation process for a new national marine sanctuary to conserve Hudson Canyon in the Atlantic Ocean, ordering a phase out of the sale of single-use plastics in national parks and public lands, launching efforts to create America's first-ever Ocean Climate Action Plan, and launching an initiative to centre environmental justice in ocean science and technology activities and investments.
Copyright Ships & Ports Ltd. Permission to use quotations from this article is granted subject to appropriate credit given to www.shipsandports.com.ng as the source.