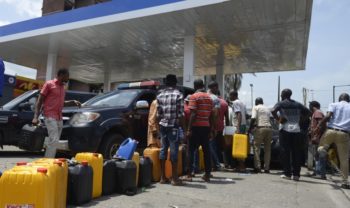 The Chairman, Board of Trustees of the Independent Petroleum Marketers Association of Nigeria (IPMAN), Abdulkadir Aminu, has disclosed that there are over 2,000 unlicensed fuel retail outlets all over the country.
He said the promoters of such unlicensed outlets were the ones responsible for hoarding petroleum products.
Aminu, who spoke with journalists in Abuja on Sunday, claimed that the unlicensed marketers were the ones causing scarcity and creating problems for the government.
He said he had made this known to Federal Government officials during a stakeholders' meeting marketers had with the Chief of Staff to the President, Abba Kyari, recently.
He said, "It will surprise you to know that we have over 2,000 retail outlets in this country that are not licensed, they are not known to DPR and these are the nuisance value that everybody is having.
"Sometimes, people would think that some people are using marketers to undermine government. This is not true.
"We believe that this government has focus and we are with the government and thereby there is nothing that the marketers want more than an enabling environment which has been provided to marketers.
"Before, marketers could not operate in Gombe, Yola, Maiduguri, Damaturu, freely. Today, marketers are operating freely. Who made it possible? It is the government.
"So, how can we go against the government that gave us the enabling environment? It is not true.
"But what is true is that there are people who are not licensed marketers who have access to these products and they are doing what they like because they want to profit from it and therefore constitute these problems for government, marketers and Nigerians at large."
Aminu further claimed that the over 2,000 unlicensed marketers are not members of IPMAN or DAPMAN.
He claimed that the unlicensed marketers were also associated with bunkerers. 
Copyright Ships & Ports Ltd. Permission to use quotations from this article is granted subject to appropriate credit given to www.shipsandports.com.ng as the source.