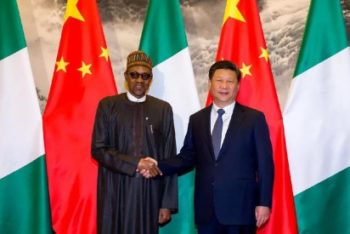 The Consul-General of the People's Republic of China in Lagos, Chao Xiaoliang, has disclosed that bilateral trade between China and Nigeria in 2017 amounted to about N4.97 trillion ($13.78 billion).
He made the disclosure at the celebration of the Chinese New Year, also known as the Spring Festival in Lagos by hundreds of Chinese nationals, with their Nigerian and non-Nigerian friends.
According to Xiaoliang, the year 2017 also promoted more fruitful people-to-people friendships between Chinese and Nigerians.
"Let me announce that the bilateral trade between our two countries in 2017 reached $13.78 billion.
"The year 2017 also witnessed a fruitful year of Chinese and Nigerian friendships.
"The cooperation between the two countries is flourishing, especially in the fields of politics, trade, infrastructure development, IT, agriculture and culture.
"Our People- to- People exchanges and cultural exchange programmes are growing rapidly. These achievements cannot be made without the efforts of our Nigerian friends, the Chinese community and enterprises in Nigeria,'' he said.
Xiaoliang also said that the Chinese Foreign Minister, Wang Yi, had visited Nigeria last year, to discuss ways of strengthening both countries relations with President Muhammadu Buhari.
The Consul-General also said that China and Nigeria had also promoted a number of cooperative projects in 2017, such as the Mambilla Power Project, the Lekki Deep Seaport and the Lagos- Calabar coastal railway.
Xiaoliang expressed hope that there would be "greater opportunities'' for both countries' relations this year, especially for implementing China's19th National Congress of the Communist Party (CPC) and the 40th anniversary of China's reforms.
The Chinese New Year, also known as the Spring Festival, or the Chinese Lunar New Year, is an important Chinese festival celebrated at the turn of the traditional lunar Chinese calendar, which had been running for over 4000 years.
The annual event which is the grandest traditional festival in China, is also an important symbol of Chinese culture.
During the Chinese New Year, families gather together, yearning for a better life, bidding farewell to the old year and ushering in the new one.