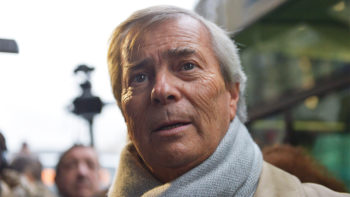 Billionaire French tycoon, Vincent Bollore, was on Tuesday, detained near Paris on suspicion of corruption over his group's acquisition of rights to operate ports in West Africa, legal sources told AFP.
Bollore, who, days ago, stepped down as Chairman of media giant, Vivendi, is being questioned by police as part of an investigation into allegations of corrupt business practices in Africa, Le Monde newspaper reported on Tuesday.
The 66-year-old CEO of the Bollore Group, which has interests in construction, logistics, media, advertising and shipping, was taken into custody as part of an investigation into the group's management of Lome port in Togo and Conakry port in Guinea, the sources said on condition of anonymity.
Shares in his holding company Groupe Bollore SA fell around six percent on the news of his police interrogation, while shares in Vivendi also fell around one percent.
Le Monde said Bollore was being quizzed in Nanterre, on the western outskirts of Paris.
Bollore's lawyers did not answer telephone calls. Groupe Bollore's spokesman and Bollore's personal spokesman could not be reached and did not respond to messages.
France's Bollore group denied any wrongdoing on Tuesday after its boss, billionaire tycoon Vincent Bollore, was detained by police over an enquiry into corruption allegations in Africa.
"The Bollore group formally denies that its subsidiary at the time SDV Afrique is guilty of any irregularities," said a statement later sent to AFP.
Agency Report