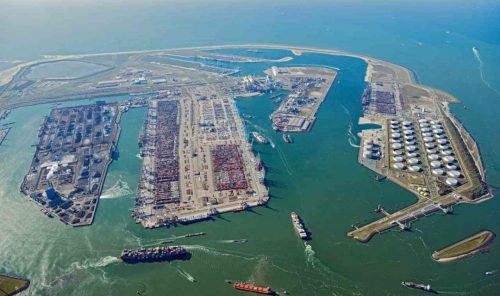 The British Ports Association and Dutch Port of Rotterdam have launched a joint smart ports paper as they aim to explore opportunities offered by port digitalization.
In the paper, the two sides outlined steps necessary to create more efficient processes in and between ports.
What is more, the paper noted that not all traditional ports would be able to survive this digital disruption.
"Just as with retail, the travel sector and the world of banking and insurance, digital platforms are set to dominate the supply chain in the logistics sector as well," it was said.
"For ports, the challenge is to determine their digital strategy so they can preserve and strengthen their competitive position in relation to more digital ports and other transport resources."
Both sides stressed that the development of a global network of connected ports around the world is the key element in the digital transition.
The paper also introduced a "digital maturity model" showing how ports can gradually develop into smart ports. The model outlines four maturity levels in the step by step process to become a digital port.
As explained, the first step is the digitization of individual parties in the port, followed by the integration of systems in a port community. The third phase would integrate the logistics chain with the hinterland before ports are connected in the global logistics chain in the final step.
"This paper sets out some of the benefits of smart operations and how ports can benefit. Ports of all sizes face similar challenges in adapting to new technologies and developments in the industries we serve," Richard Ballantyne, BPA Chief Executive, commented.
"Smart port operations will give ports the edge in becoming greener and ultimately, more efficient in serving the wide range of industries we support."