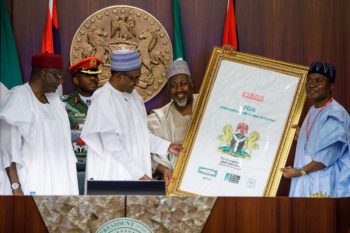 President Muhammadu Buhari has accused his predecessors of fertilizer diversion, saying trucks conveying fertilizer disappeared "miraculously" in transit under previous governments.
The President spoke while granting audience to members of the Presidential Fertilizer Initiative (PFI) at the Presidential Villa, Abuja on Friday.
Buhari expressed delight that contrary to what happened under previous governments, none of the 3,333 trucks that participated in the fertilizer programme of his administration in 2017 got missing.
He promised that his administration would continue to provide adequate security in order to sustain the programme.
Buhari said: "Unlike in previous governments where trucks conveying fertiliser would miraculously disappear in transit, in 2017, none of the 3,333 trucks that participated in this programme went missing.
"I want to assure all participants of the PFI that, we will continue to provide adequate security so that this programme, and its positive impact on Nigeria, is sustained."
While acknowledging the partnership among the Central Bank of Nigeria, the Minister of Agriculture and Rural Development and state governors to ensure Nigeria feeds itself, Buhari urged them to continue the cooperation.
He called on stakeholders to continue to support programmes like the PFI and work together to ensure that the country never returns to the dark days of import dependence.
He added: "The rains are upon us. Farmers in the Southern part of the country will be planting soon. We must all do our bit to ensure fertiliser is readily available.
"Therefore, the Ministry of Finance and Nigerian Sovereign Investment Authority should immediately engage the Governors Forum to conclude their orders.
"The Ministry of Agriculture and Rural Development should conclude the planning for all government programmes for the 2018 season to ensure synergy."