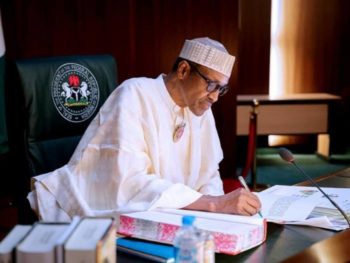 President Muhammadu Buhari on Wednesday signed Nigeria's record N9.12 trillion 2018 budget into law.
Buhari said he was concerned by some changes to the 2018 budget made by the National Assembly.
"The logic behind the Constitutional direction that budgets should be proposed by the Executive is that it is the Executive that knows & defines its policies & projects," said Buhari in a tweet.
The National Assembly passed the appropriation bill last month.
The N9.12 trillion budget is higher than the N8.6 trillion plan presented to the lawmakers by Buhari in November because both chambers of the National Assembly increased the assumed oil price to $51 per barrel, from $45.
Agency Report