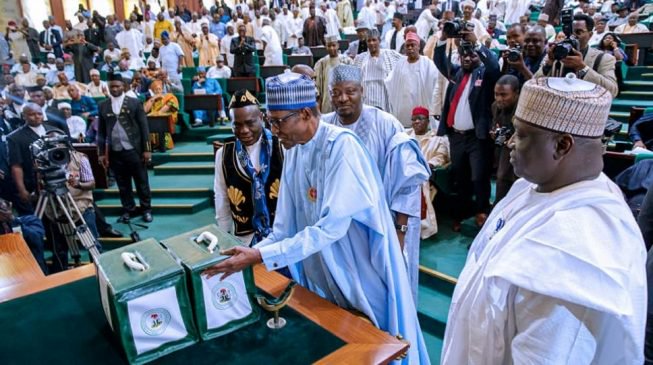 The Senate and the House of Representatives have passed the 2018 budget, raising it by N500 billion.
Both Houses on Wednesday approved a budget that rose from N8.6 trillion to N9.1 trillion, six months after it was presented by the executive.
President Muhammadu Buhari presented the budget to a joint session of the National Assembly on November 7, 2017.
Both houses of the National Assembly on Tuesday received the budget report of their appropriation committees.
At the Senate, the chairman of the senate committee on appropriation, Danjuma Goje, said the increase of N500 billion was done in consultation with the executive.
He said the increment was informed by a decision to increase oil benchmark from the proposed N45 to N51.
The exchange rate of N305 to a dollar and production of 2.3 million barrels of oil per day was adopted as proposed by the executive.
Goje said the funds accrued from the increment will be spent on some projects already earmarked by the committee.
He said the surplus fund was spread on some 'critical sectors' in consultation with the executive. He gave a breakdown of how much more will be spent on different sectors.
According to the report, N42.72billion will be spent on security, N57. 15 billion on the 1 per cent vote for health as mandated by the National Health Act, N106.50b billion for the Ministry of Power, Works and Housing.
Other areas are education, N15.7 billion, Judiciary, N10 billion and Niger Delta Development Commission (NDDC), N44.20billion.
He added that the increment will allow for a N50.88 billion deficit reduction.
In the final breakdown, the senate passed a 2018 budget of N9,120,334,988,225 of which N530,421,368,624 is for statutory transfers as against N456,458,654,074 proposed by the executive.
N2,203,835,365,699 was budgeted for debt service as proposed while N190,000,000,000 was budgeted for sinking fund for maturing loans.
N3,512,677,902,077 was earmarked for recurrent (non-debt) expenditure with a slight increment from N3,494,277,820,219 proposed and N2,873,400,351,825 was budgeted for capital expenditure as against N2,427,665,113,222.
The budget will have a fiscal deficit of N1,954,464,993,775 and a deficit to GDP of -1.73 per cent.
At the House of Representatives, the appropriations committee also presented its report.
Of the total, N530 billion is for statutory transfers; N2 trillion for debt service; N2 trillion for sinking fund for maturing bonds and N2 trillion for recurrent (non-debt) expenditure. Capital expenditure is N2.8 trillion.
According to the report, eight establishments are to get their allocations on first line charge. These are N110 billion for statutory transfer to the National Judicial Council, N81 billion to the Niger Delta Development Commission, N34 billion as part payment to NDDC Outstanding Liabilities on Federal Government of Nigeria, N109 billion for Universal Basic Education, N139 billion for National Assembly and N7 billion for Public Compliant Commission.
Others are N45 billion for the Independent National Electoral Commission (INEC) and N3 billion for the National Human Rights Commission (NHRC). 
Copyright Ships & Ports Ltd. Permission to use quotations from this article is granted subject to appropriate credit given to www.shipsandports.com.ng as the source.