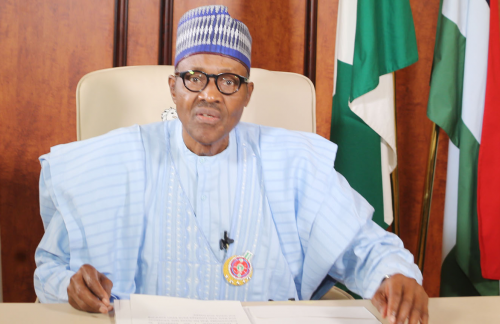 By Patience Danjuma 
President Muhammadu Buhari says he went "temporarily into a comma" when ex-President Goodluck Jonathan called him on phone to say he had conceded the 2015 election.
Buhari said his predecessor had stayed long enough in office to have caused problems during the election.
Buhari said however, Jonathan's decision to concede defeat was great.
He added that he won the election because of the commitment of Nigerians and the use of permanent voters cards (PVCs).
Buhari was speaking when he hosted some top members of the ruling All Progressives Congress (APC) to a dinner at the presidential villa in Abuja.
"The PVCs worked well in 2015. That was why when the former president rang me, I went temporarily into a coma," Buhari said.
"I will never forget the time. It was quarter past 5pm and he said he called to congratulate me and that he had conceded.
"He asked if I heard him, and I said yes. I thanked him for his statesmanship.
"The truth is after being a deputy governor, a governor, vice-president and president for six years, and he took that decision is great. He could have caused some problems. He had stayed long enough to cause problems," he said. 
The President also explained the reason why "he is not in a hurry" to take decisions.
Buhari said his experience as a military dictator is one of the major reasons for his gradual pace.
He also told the APC leaders that he is fully aware of the issues confronting the country and that he is guided by historical antecedents.
"I felt I had to invite you to let us eat together and I tell you that I am sitting here very much aware of the problem in this country. I will always reflect on historical antecedents.
"I decided to drop the uniform and come back here (to be President of Nigeria), so I have gone through it over and over again. This is why I am not in a hurry to do anything. I will sit and reflect, and continue to (operate) with my clear conscience."
Critics of the current administration have accused the president of moving at a slow pace but he has carried on.
Back in 2015 when Buhari met some Nigerians based in the US, he said he preferred going "slow and steady".
"In some quarters, they are now calling me 'Baba Go Slow'. I'm going to go slow and steady," he had said.
It took Buhari six months to unveil his cabinet.
John Odigie-Oyegun, the party's national chairman, urged Buhari to continue beyond 2019.
He said doing otherwise would mean that all what the president had struggled for would come to nothing.
"We are firmly, totally and completely behind you and when you make up your mind soon as I hope you will, you will find an army behind you," Oyegun said.
"Those who wish you well are already working and it is my hope that you will agree eventually that continuity is important and critical. Otherwise, all what you have struggled for will come to nothing.
"You have said it that you are not an ethnic jingoist. I know this because I have known you for a very long time.
"For some of us, when these things are said, we find it painful but I hope there will be proper rendition of what you said today and it will start clearing the air.
"The only thing I will add is that you have had a most challenging 2017 in every respect, including your son's predicament.
"It is our prayer that all the struggles you have been through, all the efforts you have put in for this country, the mind that you have to improve the lot of the ordinary man of this country, that we will begin to see results in 2018 and see the essence of the man, Muhammadu Buhari." 
Copyright Ships & Ports Ltd. Permission to use quotations from this article is granted subject to appropriate credit given to www.shipsandports.com.ng as the source.