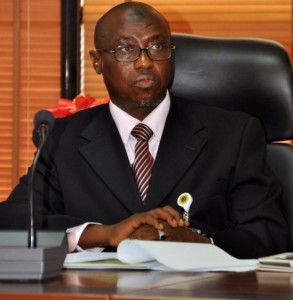 By Omotilewa Quadri 
The Nigeria National Petroleum Corporation (NNPC) has given reasons for paying subsidy on petrol without appropriation from the National Assembly.
The Managing Director of the Petroleum Products Marketing Company (PPMC), Umar Ajiya, said the NNPC Act is a law on its own which the corporation implements with or without the National Assembly.
The PPMC is a subsidiary of NNPC, which ensures, among other things, the availability of petroleum products to sustain Nigeria's industries.
Ajiya while featuring on a programme on Channels Television Friday morning said the NNPC has the right to run its finances independently.
He admitted that the corporation has been paying N26 due to differentials in land landing cost and approved selling price but declined to tag it subsidy.
"For us, it's not a question of subsidy, we don't know about subsidy. It was not budgeted for but the act establishing us, the National Assembly knows clearly that in that same act, there is a provision that we can run our operation and recover our cost fully.
"There is a difference between the landing cost and the price we are selling but what we are saying is that is part of our core structure," he said. 
Senators from both ruling and opposition parties on Wednesday attacked chairman of Senate committee on Petroleum (Downstream), Kabir Marafa, for not including the issue of fuel subsidy in an interim report.
The senators were particularly angry that the NNPC is paying subsidy on fuel without appropriation from the National Assembly.
Ajiya advised the lawmakers to channel their grievances in the right manner.
According to him, "The NNPC Act is a law on itself and the National Assembly is the one responsible for enacting laws, so, if there is any remedy or solution; as one of the senators, the issue is look into the Act establishing these entities; NNPC, CBN etc."
The PPMC boss attributed the recent fuel queues to poor transportation system in the country, which has hampered smooth circulation of products, and dubious purchase in major cities.
He said, "For the last one week, there is no blessed day that trucks do not fall off the road between Jebba and Mokwa and this is the link way where these products are brought from the depot especially from the south to the north, especially Abuja.
"We had to mobilise to do palliative repairs and pull off the trucks to ensure that trucks move. On top of that, the channels from which we transport these products from the ships offshore Lagos to Warri was blocked by another vessel. We equally have to mobilise together with the owner of the vessel to try to remove that ship. That channel has not been dredged for a long time." 
"Two, there is an issue of capacity to regulate effectively the price cap. DPR is trying its best but what is happening is that in the major cities of this country where you have the major marketers, and also the mega stations of NNPC, people get the fuel for N145 but when you go to the outskirts of the city, it is sold beyond that price and as such, motorists queue in to the city early morning to queue up and late in the evening, refuel their gas and go back. It reached a stage that the taxi drivers have now found a very lucrative job of buying the fuel in the city and going back to the outskirts to sell at high price," he said. 
He was however quick to add that these problems were inherited from previous administrations.
"These are consequences of inherited state of infrastructure we are living with. The administration also inherited an empty treasury. So, we couldn't overnight repair all these roads."
He denied allegations by some senators that the NNPC influenced the outcome of the petroleum committee report presented by Marafa on Wednesday.
"I think that's (doctoring the report) not true. That committee has integrity to protect. NNPC cannot doctor a report. We presented our case. At the public hearing everybody heard what the Managing Director presented. So, there is no question of influencing that report."
He, however, admitted Marafa's claim that some petroleum products are being diverted from Nigeria to other countries.
"In our report we have stated that they collected a sum of $1.7 billion of Nigeria's money at N305 to bring products and we are saying that this amount of money is enough to bring at least one hundred days' supply at 35 million per day. Where is it? And somebody wants me to go back and discuss an issue everybody knows. NNPC, you say you are bringing 30 cargoes of 30 thousand metric tonnes per day. We said from what you have told us now, this supply is supposed to last Nigeria 35 days, not 30 days.
"There is a surplus of five days and if you multiply it by 12, that is surplus for 60 days. If you add the marketers surplus of 100 days they are supposed to bring, that is 160 days. Even if Nigeria is consuming 100 million litres per day, we are not supposed to be in scarcity today. The committee has been able to establish that there is a surplus of over five billion litres. Where is this surplus and why are we in this situation?" Marafa said on Wednesday.
Ajiya in seeming response said, "There is no blessed day that we don't bring one cargo of PMS into this country and one cargo on average is fifty million litres. And if we say we are consuming less than 35 million litres per day, then it is a natural question that where is the excess going. We have the belief and reports indicate that most of these excess are either hoarded or smuggled out of the country by the marketers."  
Copyright Ships & Ports Ltd. Permission to use quotations from this article is granted subject to appropriate credit given to www.shipsandports.com.ng as the source.