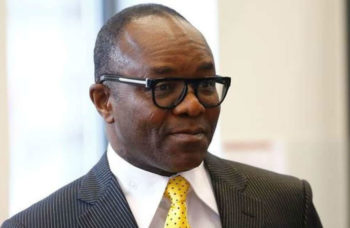 By Patience Danjuma 
The Presidency on Sunday denied reports that $25 billion worth of oil contracts were awarded by the Nigerian National Petroleum Corporation (NNPC).
The accusation levelled against the corporation by the Minister of State for Petroleum Resources, Ibe Kachikwu that it awarded the contracts without following due process had raised eyebrows.
Kachikwu has since denied alleging a contract scandal, maintaining that he only complained about governance process at the national oil corporation.
Reports later emerged that the NNPC had the backing of the presidency regarding the said contracts.
However, Vice President Yemi Osinbajo, who at the time was the Acting President, denied approving any contract for the corporation, saying what he approved was financing for joint venture agreements.
Buttressing Osinbajo's claims on Sunday, Laolu Akande, his spokesman, said a closer look at each at the reported projects shows none of them was procurement contract.
"What is more important is that when you look diligently at the referenced projects/transactions one by one, you will see, as NNPC has shown, that none of them was actually a procurement contract," Akande said while speaking to reporters in Abuja.
"When I tweeted on Thursday morning last week, I had indicated that the Vice President, while acting as President approved joint venture financing arrangements.
"But for some curious reasons, a few media reports used that tweet to report that I said the then Acting President approved N640 billion worth of oil contracts. Such reporting is both false and misleading.
"Take both the crude term contract and the direct sale, direct purchase (DSDP) agreements for instance, these are not procurement contracts involving the expenditure of public funds. Both transactions are simply a shortlisting process, in which prospective off-takers of crude oil and suppliers of petroleum are selected under agreed terms, and in accordance with due process."
Akande said attaching monetary values to the said transactions is arbitrary, ading that "whenever there is a monetary value on any consignment of crude oil lifted in this country by any firm, the proceeds go directly to the federation account and not to any company."
"In fact, the Buhari administration in the implementation of the TSA has closed down multiple NNPC accounts in order to promote transparency and probity," he added.
He further said there had been adverts seeking expressions of interest in compiling the shortlisting for the prospective off-takers of crude oil and suppliers of petroleum under agreed terms.
On the Ajaokuta-Kaduna-Kano (AKK) gas pipeline contract, Akande said it is a "contractor-financed contract which has not yet been finalized or awarded" and as such, "still making its way to the federal executive council."
He said: "There were also three presidential approvals given on joint venture financing arrangements, meaning loans to cater for cash call obligations. One of these was okayed by the president in 2015, and two by the then acting president in 2017."   
Copyright Ships & Ports Ltd. Permission to use quotations from this article is granted subject to appropriate credit given to www.shipsandports.com.ng as the source.