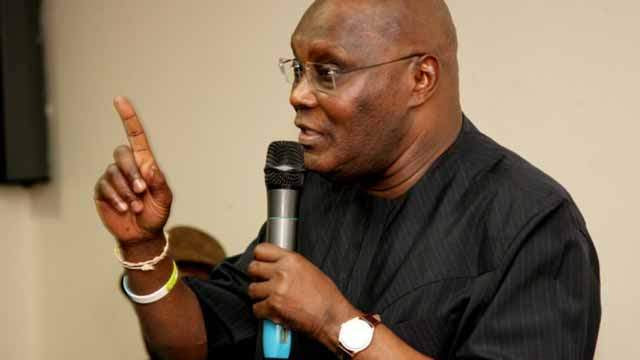 By Omotilewa Quadri 
Former Vice President and presidential candidate of the Peoples Democratic Party (PDP) for the 2019 general election, Alhaji Atiku Abubakar has said President Muhammadu Buhari's policies are chasing away investors.
Atiku who condemned Buhari's move to ban 50 Nigerians from traveling in a statement by his Media Office on Sunday, said the move was draconian, undemocratic and dictatorial.
"It is precisely this type of draconian orders that have chased investors away from Nigeria and it is precisely why Nigerians will chase this recession friendly government away from power on February 16, 2019, so we can begin the job of getting Nigeria working again.
"We must be unequivocal in saying that we abhor any act of criminality, financially or otherwise, but the rule of law must be our guide at all times or society will descend to anarchy.
"Thus, we find it most undemocratic that in a nation governed by the rule of law, a President who swore an oath to abide by the Constitution of the Federal Republic of Nigeria, does this.
"If past events are to be the judge, these 50 individuals will conveniently be critics and opponents of the Buhari administration.
"This is nothing short of intimidation ahead of the 2019 elections. This is what the Buhari administration did in Osun (State) where they froze the accounts of the Adeleke family and then illegally and clandestinely paid ₦16.7 billion to the Osun State government to facilitate daylight electoral robbery.
"To show how clueless this administration is, it included late former Chief Judge of Enugu State, Justice Innocent Umezulike as number 30 on its travel ban list.
"The question Nigerians should ask is this: can an administration that is unable to distinguish between the living and the dead bring life to Nigeria's economy?
"The Nigerian Constitution guarantees every Nigerian citizen freedom of movement and freedom of association. This Constitutional right cannot be taken away except by a court order.
"If the Buhari administration wants to curtail the rights of Nigerians, then they must go to court and obtain a court order. Anything short of this is unconstitutional and extrajudicial", Atiku said. 
Copyright Ships & Ports Ltd. Permission to use quotations from this article is granted subject to appropriate credit given to www.shipsandports.com.ng as the source.