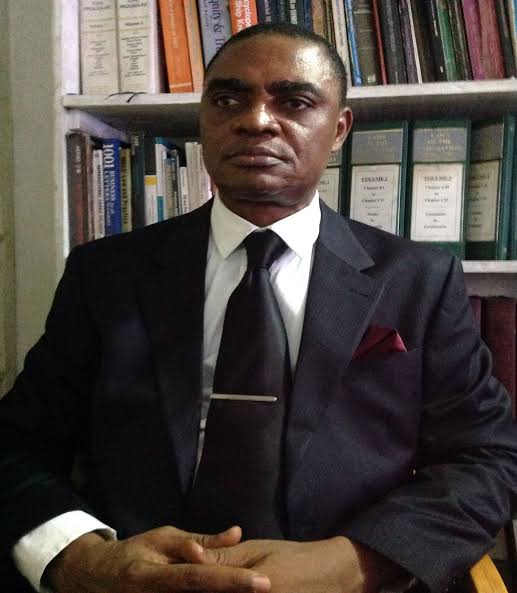 Osuala Nwagbara is a legal practitioner, specialising in maritime law and practice, maritime arbitration, ship arrest and release as well as Cabotage law. In this interview with Shulammite 'Foyeku, he shares his expectations for the maritime sector in 2019. He also speaks on the refusal of President Muhammadu Buhari to assent to the National Transport Commission bill, among other issues. 
As a maritime lawyer, what agenda would you set for the maritime sector in 2019?
One of the items on the agenda that I want to set for Nigeria in 2019 is to see maritime disputes quickly resolve in courts. Maritime disputes should enjoy same speed and priority as election related matters because shipping is tied to time, it is capital intensive and schedules are there to be met. When these shipping matters go before the court, the courts are yet to appreciate that maritime is the engine room of the economy and that matters that affect smooth transactions in the sector should be given priority. That is what we are asking the courts to recognise. When it comes to capacity building, we have to emphasize training and re-training especially in the facilitation chain and that is where the freight forwarders come in. Adequate knowledge of Customs procedures and transportation issues is very important. So our freight forwarders need to appreciate that the importer of the cargo has also tied the capital down and a good knowledge of Customs procedures would assist in actualizing the 48 hours cargo clearance initiative of the Federal Government. We also need an environment that is conducive for maritime trade in 2019. This is where the Nigerian Maritime Administration and Safety Agency (NIMASA) should step up its role of providing adequate security in our port. I am happy that NIMASA recently stated that the agency is stepping up effort to ensure that some of the bills that are before the National Assembly are passed in 2019. It is news that gladdens the heart and we hope that will come to be. We need the National Assembly to pass the bill that will regulate armed robbery at sea within the country's territorial waters because piracy and armed robbery at sea are very big issues in the country and it is making shipping cost very high. 
If we are able to have laws that will deal with armed robbery and piracy at sea, most of the attacks would cease and piracy and armed robbery at sea will reduce drastically. I have never read of any case where an armed robber at sea was convicted. You will probably be reading that they were arrested, handed over to EFCC and then they are taken to the magistrate court and the prosecution one way or the other is bungled and the people are let off the hook. One of the problems is that we do not have laws that deal with armed robbery at sea in Nigeria and therefore prosecution is difficult. So until we have this law, we can hardly secure conviction of armed robbers at sea before our courts. We need to have that law that will give jurisdiction to the court that understands maritime issues not magistrate court because armed robbery at sea is a very sophisticated crime and it requires adequate knowledge of the laws to tackle it. We are also setting agenda for NIMASA to step up what they are doing. We commend them that they have taken this initiative to ensure that those bills are passed. Nigerian Ports Authority (NPA) also has its role to play to ensure that maritime business in Nigeria takes a lead in 2019. We commend them for the job so far done on improving the port access road from the Ijora end. We also want to remind them that a lot still have to be done to get that road free for easy access to the port. We still meander on that road and sometimes it is blocked at different and several points so access to the port is still difficult. There is more that has to be done. Apapa has to be cleared of trucks and the Tin Can Island axis should be given a serious attention than it is receiving now. The trailer park at Tin can second gate can take as much as 400 vehicles if put in use. We are asking NPA to quicken its collaboration with whichever agency it is working with to ensure that the truck park is open up for business, so that trucks that litter the road can leave.
You talked about actualizing 48-hour cargo clearance. How would you assess the performance of Nigeria Customs Service in the area of trade facilitation in 2018?
In spite of the NICIS II platform, which seeks to facilitate trade, what we see is that there is a still lot of human interface in the cargo clearance process. Deliberately, officers of the Nigeria Customs Service create encumbrances in the cargo clearance process. There are sequential guidelines or methods of assessing Customs duty but they have been frustrated by officers in charge of cargo clearance in our ports, either out of ignorance or deliberate mischief to interface with cargo clearing agents. This has resulted in delay in cargo clearance apart from also encouraging self-aggrandisement. So we look forward to a whole implementation of the provisions of the Customs and Excise Management Act (CEMA), a technology driven ICT platform where a cargo facilitator would conclude his transaction online and he is only left to move into the port and take cargo without meeting any person.
What is your take on the refusal of President Buhari to assent to the National Transport Commission (NTC) bill? 
The refusal by the President to assent to the NTC bill to me is a push back because our expectation was that it was going to be a Christmas present for Nigerians. Without a law that will regulate economic management or regulation of the transport sector within the port areas, we would not achieve the expected goals in the maritime sector. Imagine two, three years back; it would cost N60,000 to transport one container from Apapa to Alaba International but today it costs over N150,000 and beyond. About this same time of comparison, it will cost about N300,000 to transport a container to Kano. Today, if anybody asks you to pay N700,000 to transport a container to Kano, suspect the vehicle and the person you are dealing with because that transaction may not be real. It costs close to N900,000 to one million naira to transport a container from Lagos to Kano right now. So we need a National Transport Commission that can regulate this aspect of our maritime practice. I am therefore calling on Mr. President to try to assent to that bill. I understand the bill has been sent back for the National Assembly to tinker with certain provisions in the bill relating to the commission that was going to be payable to collecting agencies. It was also stated that certain provisions in that bill conflicted with the functions of NPA and one other agency and these areas needed to be harmonised. I am also calling on the agency which is responsible for harmonising the NTC bill to take the matter seriously in the interest of Nigeria so that 2019 sees NTC functioning and regulating the transport sector within the port industry in Nigeria.
How feasible is the Federal Government's plan to float a national carrier? 
I see national fleet as a project that is feasible. It takes willpower of government to make it work. Lack of national fleet is a dent on the image of Nigeria as a maritime nation. We are looking to see a national fleet that will be run like a commercial enterprise with the private sector owning majority of the shares and government providing directions and assisting it to source for business. So I was happy to read where the national fleet implementation committee headed by Hassan Bello was saying that they were going to look at zero duty for ships import to Nigeria and would probably look for other incentives like tax holiday that will encourage investors. I want to encourage the committee to step up its actions. Nigerians are gearing up to see national fleet work in this country. It will help our import and export business. When we have a national fleet, we can be sure that we would not be subjected to the kind of freight regime that we have with foreign vessels. With a good arrangement, you can ship your cargo in a cheaper manner than when you are shipping with a foreign vessel. A number of shippers can come together and negotiate and have a particular freight rate, which they will be paying for a particular product like say agriculture and the likes. These things are possible with national fleet.
More so, we will not find such charges that we see, like the war risk charges that is being imposed on Nigeria imports today if a Nigerian owned vessel under our national fleet is to go to a foreign country to pick cargo to bring to Nigeria, it won't charge Nigerians special war risk freight as an additional cost. So these are issues that make national fleet imperative for Nigeria and for Nigerians. I hope that 2019, we would make the national fleet project see the light of the day.