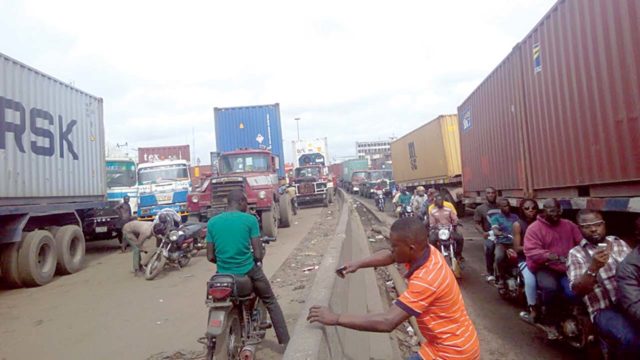 The perennial gridlock in the port city of Apapa, Lagos, is exerting enormous toll on the value of landed property in the area, according to findings by SHIPS & PORTS DAILY.
A study conducted last week by SHIPS & PORTS DAILY reveals that the value of property in Apapa GRA has dropped by as much as 25% over the past three years while tenement rates for residential accommodation has dropped by 30% over the same period.
The study, conducted on 83 buildings located on Liverpool Road and Maybin Streets, Apapa, showed that the cost of renting residential apartments dropped in order to attract clients who now view Apapa as 'an unlivable area' because of the gridlock.
A resident on Liverpool Road, who identified himself as Balogun Disu, said as at 2015, the cost of renting a mini-flat on the street ranged between N400,000 and N450,000 but has now dropped to N350,000 per annum. 
A real estate agent said the current average rent value for a two-bedroom flat in the area is N1.5 million per annum, down from the average of N2 million the same type of property commanded in 2015. The agent blamed the traffic situation in Apapa for the drop in rental value. 
The agent said, "A lot of people have left Apapa because of the numerous tankers and trucks constituting nuisance on Liverpool Road. Residents find it difficult to go in and out of their apartments; there are times the entire road is blocked.
"The companies that are still there have business to do with the port. They are hoping that the glory of Apapa would be restored when the ongoing work on the road is completed."
Findings by SHIPS & PORTS DAILY further reveals that a three-bedroom flat commands N2 million in rent, down by 25% from N2.5 million in 2015. 
The situation was no different at Maybin Street, which has been cordoned off from the major Wharf Road for repairs. 
Of the 53 buildings on Maybin Street, 15 are used for commercial purposes while the rest are residential. Irrespective of the purpose for which it is used, a 4-bedroom duplex on the street commands about N 3million in rent, down 40% from an average of N5 million in 2015.
Copyright 2018 Ships & Ports Ltd. Permission to use quotations from this article is granted subject to appropriate credit given to www.shipsandports.com.ng as the source.