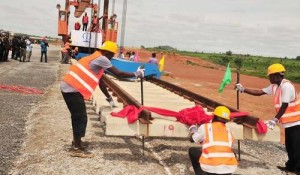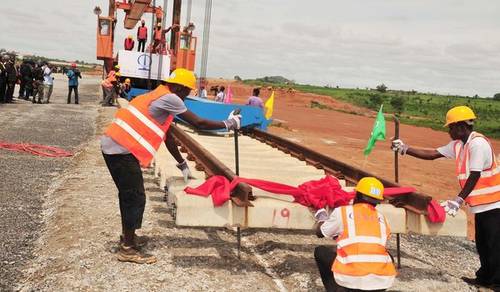 Governors Abiola Ajimobi of Oyo State and Ibikunle Amosun of Ogun State have hailed the construction of the 156-kilometre Lagos-Ibadan standard gauge rail line which officially commenced on Tuesday after its ground-breaking commissioning was done by Acting President Professor Yemi Osinbajo.
In separate interviews with newsmen at the event, the duo commended the vision of President Muhammadu Buhari for delivering his promise to Nigerians, saying the revival of the rail transportation would boost the economy of the country.
Governor Ajimobi said Oyo State is the biggest beneficiary of the rail track being the gateway to Lagos State, the commercial nerve centre of the country.
He said, "I think Oyo State will benefit more than any other state because of the contiguity of Oyo State and because of the fact that Oyo State, after Ogun State, it is next to Oyo State in distance. By having the train, it has reduced the time to be spent on travelling and because Oyo State is the gateway between Lagos State which is the commercial nerve centre of Nigeria.
"The north is the largest geopolitical zone in Nigeria and in terms of population, it has the highest. So when it comes to movement of goods and services from Lagos which is the commercial nerve centre, you pass through Oyo State. So for me, we will benefit more than any other continuous state.
"If you look at our land mass, it is bigger than Lagos State, than Ogun State. So invariably, we have the comparative advantage when it comes to housing, when it comes to agriculture and when it even comes to culture. So we are saying in all those areas, this rail transportation system would have that multiplier effect on Oyo State. So unarguably, we are the number one beneficiary of this system.
Amosun on his part said the FG's rail track would be complimented with the state's light rail project which would be routed through Berger, Toll gate in Lagos, Shagamu-Interchange, Ogere down to Abeokuta, adding that it would ease pressure on the road because almost 90 per cent of goods being moved in Nigeria were ferried through the roads.
He said, "For any economy that would grow well and develop, their rail system must be very active. And that is why in other nations, at least 80 to 90 percent of their goods are being moved through the rail.
"For us, this is very good as a nation; for us as a zone which is south-west, it is very good. For us as a state, this is very good. As I speak today, Ogun State is the industrial hub of Nigeria."