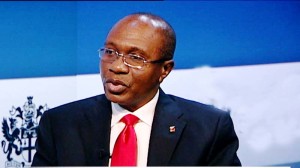 Buoyed by the rate of the economy's recovery, the Central Bank of Nigeria (CBN) is confident that the country will return to single digit inflation rate.
CBN Governor Godwin Emefiele, in an interview with Arise Television yesterday, said with the improvement seen in growth from the negative 1.7 per cent in the last quarter of last year to the negative 0.5 per cent in the first quarter of 2017, the inflation target "is achievable in the course of time".
Nigeria's inflation rate fell for a fourth straight month in May, dropping to the lowest in a year as growth in prices of most goods, except food, eased. Inflation slowed to 16.25 per cent from 17.2 percent in April, according to data from the National Bureau of Statistics.
Emefiele spoke of huge success in exchange rate stability, based on some of the actions the apex bank had took in the last couple of months.
The CBN boss said: "In 2017, with the improvement we have seen in growth, from the negative 1.7 per cent in the last quarter of last year to the negative 0.5 per cent in the first quarter of this year. We have seen exchange rate stability with some of the actions we have taken in the last couple of months. We do expect that if this trend continues, we should get better. Firstly, with inflation trending downwards, we are hopeful that in the course of time, we will get back again back to single digit inflation."
He said the country had developed homegrown solutions to its economic challenges and that the feedbacks from those decisions are positive.
" Why needed to adopt Nigerian option, because of our peculiar reasons. On inflation, the CBN had a target of six to nine per cent, unfortunately, it grew to 18.8 per cent and I am happy it is coming down, and I am hopeful it will continue to get better. We looked at the foreign exchange market, and today we have ensured that forex is not N500/$1. It is now between N360 and N370/$1 and we will ensure it gets even better from where it is right now," he said.
On some of the stabilisation steps taken by the regulator, Emefiele said the apex bank had opened the market up for more people to come in. "We want more people to in and invest in the economy, and that was why we introduced the Investors' & Exporters' Window. We want forex market that will be determined by demand and supply. It has helped in forex flow and led to the appreciation in the naira we are seeing today," Emefiele said.
On the real exchange rate for the naira, he said that despite any method used in determining the value of the local currency, the real effective exchange rate should not be above N325/N330 to dollar.
On the restriction of forex for 41 items, Emefiele said there was need to take a look at what is being imported. "Why should we import toot pick, palm oil and even rice? At a point in time, Nigeria was the largest producer of palm oil, controlling 40 per cent of the market share. Why should we set aside forex for the importation of products that we can produce in the country. My view is that forex should be devoted to critical segments of the economy and for the importation of items that we cannot produce in the country," he said.
The CBN boss' logic is that when items, such as palm oil, are imported, the local producers are made poorer.
"When we import rice, we impoverish the rice producers in Abakaliki, Kebbi, Sokoto, Katsina and other parts of the country. We need to look at that very seriously because God has blessed this country, with good climate, good weather, which should be taken advantage of. Since we can produce these things, let's use them to feed our people so that we can save foreign exchange for the country," he said
Emefiele said he grew up seeing the country's economy thriving in the 60s and 70s, adding that he owed Nigerians an obligation to ensure that the economy rebounds.
Emefiele also said with the level of commitment shown to agriculture and rice production, many manufacturers were already indicating interest in the supporting government's efforts.
"As we continue this plan, we have seen some multinationals coming to say they will join us in rice production, palm oil production among others," he said, adding that the CBN would continue to support multinational that help in building the economy by supporting government's efforts at promoting agriculture.
"If PZ Wilmar Nigeria needs foreign exchange because they have a little shortfall, I will give them because I have seen their contributions to the economy. Coscharis has acquired thousands of hectares of land in Anambra, trying to grow rice. And we were there last year, and this year, we will be there again to see what they have done. Dangote is also investing in rice farming," he said.
Emefiele said Kebbi, Jigawa, Sokoto, Anambra and Ebonyi states were showing lots of interest in rice production, adding that with the sustenance of these efforts, Nigeria's economy will be on the path of recovery.