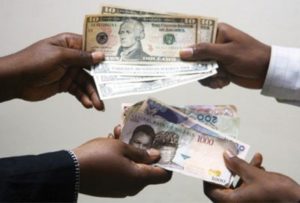 The Central Bank of Nigeria (CBN) has been cautioned that its current foreign exchange (forex) intervention to stabilise the Naira is artificial and capable of scaring off foreign investors.
Dr Anthony Aziegbemi, an economic consultant and partner at Value Fronteira Limited stated during his presentation on the "way out of recession" on Wednesday that "daily roll out of restrictions and pumping out of forex creates uncertainty and will scare away foreign investors because they are not sure of what will happen to the rate and the value of the currency to enable them plan."
Aziegbemi, who was a former legislator during the Olusegun Obasanjo-led administration, noted that "pumping forex out because we have it, once that dries up we will be back to square one. The value of the exchange rate should be determined by market forces."
"If you don't follow these laws and you do it artificially, like banning of the 41 items from getting foreign exchange, the economy won't work as expected."
Speaking on the way out of the current recession, Aziegbemi advocated for more money to be voted for the power, housing and works over this year's figure of N370 billion in order to create jobs and stimulate the economy.
The former lawmaker also criticised the CBN's decision to increase interest rate from 11% to 12% arguing that this will not move the economy out of recession but he expects the Monetary Policy Committee (MPC) to cut rates at its next meeting.
He said that countries that successfully came out of recession had to lower their monetary policy rates to encourage spending. "So raising the lending rate has made less money available in the system and more difficult to drag the economy out of recession," he said.
Aziegbemi also urged the federal government to drastically reduce the country's import bill which stands at over $8 billion annually by at least half of that amount. He noted that "if we don't curb our taste for foreign goods we will still be in trouble."
Also speaking on the recently released Economic Recovery and Growth Plan (ERGP) by the Federal Government, Aziegbemi lamented that the document lacked specifics on some of the plans and targets stressing that there was no information on how government hopes to meet 8% growth rate for the manufacturing sector by 2020 as stipulated in the document.
The document he added does not have a fiscal stimulus package "which is what is needed to get out of recession."
His solution to get the country's economy out of recession he pointed out include putting money into specific projects to generate employment and stimulate spending by the masses; reducing Company Income Tax (CIT) from 30% to 20%; eliminating leakages in all forms including the CBN released g the names of the companies that benefit from its interventions and those behind the companies for transparency sake; and granting amnesty to treasury looters with a moratorium of six months.
Copyright Ships & Ports Ltd. Permission to use quotations from this article is granted subject to appropriate credit given to www.shipsandports.com.ng as the source.