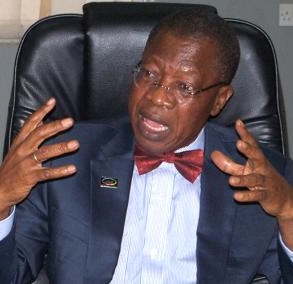 The Minister of Information and Culture, Lai Mohammed, says he is proud to be a Nigerian.
The minister said this after a facility tour of the plant of the Nigeria Liquefied Natural Gas (NLNG) Limited on Bonny Island, Rivers state.
He described the NLNG as a shining example of the Nigerian success story in management and technical competence.
"Until I came here I did not know that Nigeria has a humongous asset as the NLNG. I have been reading about NLNG but coming here and having a firsthand experience and information, the briefing and the tour of the place have actually changed my mind completely about the NLNG," he said in a statement issued by Segun Adeyemi, his media aide, on Wednesday.
"I am inspired, excited and proud to be a Nigerian. This probably is the best success story of this country and my pride largely derives from the fact that this company is run by Nigerians. The management entirely represents Nigeria and when you look at the complexity of the operation, I'm also very proud that this is coming from Nigeria."
Mohammed said the NLNG was the incubator for the growth of the nation's oil and gas industry, and that if adequately encouraged, the company would replicate in Nigeria the kind of transformation that Qatar did with its gas reserves.
He urged the media to continue to project the NLNG positively to ensure that the vision of the company is realised.
In his remarks, Tony Attah, managing director of the NLNG, said the time had come for Nigeria to unleash its gas potential and power the economy, especially as the country has the ninth largest gas reservoir in the world with a proven 187 trillion cubic feet.
Attah said in order to realise the dream, the NLNG was embarking on the ambitious project for the construction of trains seven and eight, which would attract $25 billion foreign direct investment and the creation of 18,000 jobs in the construction phase alone.
"It's time for gas and it's time for Nigeria and we believe this is possible. We see that opportunity from trains seven and eight unleashing the gas potential. We see deliberate opportunities of the country going after the 600TcF of gas (reserve).  In building trains seven and eight, potential investment that will be coming is about $25 billion," he said.
Attah said the country, through the NLNG, had succeeded in reducing gas flaring from 65 percent to 20 percent, and that it would continue to diversify the energy resources and monetise gas in the country.
According to him, the NLNG has so far paid $5.5 billion in taxes and $15 billion in dividends to the federal government and has spent $13 billion on the purchase of gas to process into liquefied form.  
Copyright Ships & Ports Ltd. Permission to use quotations from this article is granted subject to appropriate credit given to www.shipsandports.com.ng as the source.