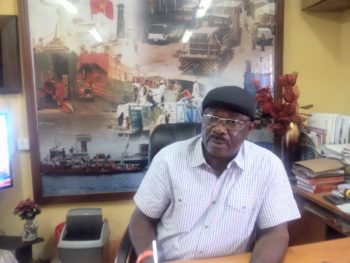 By Dr. Boniface Aniebonam
Ports are no longer seen as mere gateways or doorways to nation state economies.  Globalization has launched ports into the mainstream of international logistics and supply chain management, with the advantages of economies of scale and economies of scope to mega players as well as far reaching benefits to affected maritime countries.  Apart from owning one or more terminals in a region, a mega terminal operator can acquire new ports in up to five or more countries; run them with the best practices of technical; financial and managerial economies of scale whichcan launch the benefiting countries into a new paradigm of global shipping.
WHY PORT EFFICIENCY BECAME EXPEDIENT
Promoters of port efficiency and competitiveness campaigned for it rigorously in the 1980s.  By this time, Nigeria was just recovering from the notorious port congestion of the 1970s.  Many other ports around the world had also become bottlenecks to efficient distribution in the international logistics chain.
World Bank maritime study groups diagnosed three main problems that contributed to gradual deterioration of service quality by port inefficiency and consequent service failures:
Restrictive Labour Practices – Here, antiquated work methods of ancient times was the rule. It was common to observe in many ports the mis-match of available labour with occasional jobs.  The technology was human labour.
The work was very slow, irregular, arduous, dirty, dangerous and paid for in a corruption call system.  It was not surprising that when containerization came knocking with mechanization as a cargo handling technique, labour unions were the first to revolt.
Central Government control in the Port Sector. In this case, international development banks and international institutions often promoted port authorities, particularly between the 1960s and 1980s.  The phenomenon encouraged slow pace and rigid hierarchical planning as well as dogmatic command and control structure with myopic planning foresight.
Unwillingness of Government to invest in adequate port infrastructure, or the "misinvestment" in infrastructure, i.e. to provide facilities that are in tunewith the needs of shipping. Hence, during this period, a number of beautifully construction port complexes became "white elephants project" when expected demand failed to materialize.
From here, Governments suddenly realize that port development had collateral consequences for public interest, job creation and the stimulation of economically backward areas.  It became clear that large scale Government involvement in port operations was self defeating and destructive to private initiative.  Government realized that its role should be to focus on services that private sector operators have no adequate incentive to provide – public goods.
THE CASE OF NIGERIA
Prior to the reform era, the ports were managed by a monopoly whose wishes were carried out by ill-trained managerial tyrants, – against the expectations of Nigerian port users.
With due respect to past management of the Nigerian Ports Authority (NPA), the situation at that time was, to say the least, chaotic and disturbing.  Handling gears and shore cranes were grossly deficient.
The port was a graveyard of monumental antiquity for truck scraps, forklifts, trucks, cranes, caterpillars and "beyond economic repair" vehicles.  There was bygone evidence of modernity in the ports.  The stevedoring workforce was over-staffed with ageing men who earned the money while the young performed the job.  Characterized by the absence of training and training facilities, the quality of dock-labour services, was to say the least, discouraging.  Sensitive cargo such as frozen fish, sugar and rice suffered great losses from willful damage, pilfering and outright theft.  Frequent strikes and service withdrawals were resorted to at the slightest provocation and this went on un-abated.  What is more, productivity ebbed.  Port charges, demurrage, shadow and miscellaneous taxations grew exponentially.  Then, the devil himself – corruption came knocking and dealt a heavy blow on the entire port community.
First, most of the rank and file of the Government authority was polluted, departments like Traffic, Marketing, Accounts, Audit, Engineering, Harbours, Dockyard, Stores and Security were not left out.  The Customs and their long rooms; the Port Police and their detention rooms were all to blame, Freight Forwarding practitioners, shipping lines and shipping company operations joined the fray.
At last, the scavengers and parasite arrived……"Wharf rats" and "porcupines", hawkers, commercial visitors and hard-to-identify strangers moved in to feast on what was left of the kill by the giants.
In a matter of time, many institutions began to act at variance with business norms and ethics within the ports system.
A shipping company will collect container deposits from clearing agents and fail to return them; a haulage broker will collect advance payments from Freight Forwarders and disappears to "only God knows" destination.  Like the import licence regime of the doomed memory, the preshipment inspection regime that came afterwards knocked many manufacturing understakings to their dishonourable graves, leaving survivors bleeding and choking with immeasurable losses.  Time went by.
THE ARRIVAL OF PORT CONCESSIONING
Sequel to the development discussed in preceding sections and the carrot of debt cancellation dangled before us, Government's interest rose to 100% on the acceptable scale.
The views of Nigerian economic experts on port reforms were sought worldwide.  They supported Government's moves to concession the ports.  So, in 2001, the World Banks' Public Private Infrastructure Advisory Fund (PPIAF) was contracted to commission the Royal Haskoning Group of the Netherlands on behalf of the Federal Ministry of Transport.  The group completed their studies and presented a number of port models from which Government was to choose:-
Public Service Port Model
Tool Port Model
Landlord Port Model
Private Service Port Model
A Combination of Some of the above.
Government chose and approved the Landlord port model which has most of the advantages; and with such convincing benefits as contained in the proposal documents, Government set out, following objectives on take-off, the concessioning in Nigeria:-
To achieve quick clearance of cargo of Nigerian Ports
To enhance quick turn-around time of vessels
To reduce port charges by 20 – 30%
To eliminate the flow of funds from limited Government resources
To boost economic activity and accelerate development.
To make Nigeria the hub for international freight and trade West and Central Africa
To reduce port operating cost by about 20 – 25%
To reduce cost of imports by 5 – 13% yearly.
Without hesitation, Government called for "expression of interests", followed by bids and the result is shown in the table below
NEW TERMINAL OPERATORS IN NIGERIAN PORTS
LAGOS PORT COMPLEX
S/N
OWNERSHIP
LOCATION
LEASE PERIOD
i.

ii.

iii.

iv.

v.

ENL Consortium

Green View Development Ltd

A.P. Moller

Apapa Bulk Terminal Ltd.
A.P. Moller

Berth 6-14

Berth 18B-19

Container Terminal

Berth 1 – 5

Lily Pond

10 years

25 years

25 years

25 years

10 years
TINCAN ISLAND PORT
S/N
OWNERSHIP
LOCATION
LEASE PERIOD
i.

ii.

iii.

JosephDan Nig. Ltd

Tincan Island

Container Terminal

Ports & Cargo Handling

Services Ltd

Terminal A

Tincan Island Port

Terminal C

10 years

15 years

10 years
RORO PORT
S/N
OWNERSHIP
LOCATION
LEASE PERIOD
i.

ii.

Five Star Logistics

Grimaldi Group

TCIP

BOT/TCIP

15 years

N/A
Others include ports in the Eastern and Central zones.  Transition in Western Ports (i.e. all ports in Lagos) was completed in April 2006 and by May 2006, the full running of the ports passed to new owners shown above.  How far have the port reforms impacted on stakeholders in particular and Nigerians in General? That leads us to the next phase of this discourse.
Ladies and gentlemen, permit me to show you examples of two countries that effected port reforms so that we may be better informed to make a good assessment of our own.
TABLE A1: COLOMBIA: Performance Before and After Concession
 

Indicator

Pre

Concession

Post

Concession

·        Average vessels waiting time (days)

·        Working days per year

·        Working hours per day

·        Bulk Cargo/day

·        General Cargo/day

·        Container moves per hour

10 days

280 days

16 hours

500mt

750mt

16 TEUS

No waiting time

365 days

24 hours

2,500mt

1,700mt

25 TEUS

 
Source: Puertos (Colombia General Port Superintendent; July 1997)
TABLE A2: ARGENTINA: Selected Performance indicators for the Port of Buenos Aires
 

Indicator

Pre

Concession

Post

Concession

·        Cargo (thousands of tons)

·        Containers (thousands of Teus)

·        Capacity (thousands of containers per years)

·        Operational areas (hectares)

·        Productivity (tons per worker per year)

·        Average stay of full containers (days)

·        Cost for container import (US$ per ton)

·        Port tariff export (US$ per ton)

·        Port tariff import (US$ per ton)

4,000

300

400

65

800mt

2.5 days

450

6.7

2.1

6,000

540

1,000

95

3,000mt

1.5day

120

3.0

1.5
NIGERIAN PORTS AFTER CONCESSIONING
Distinguished guests, we have chosen Western ports as a case study with a view to applying the facts and findings, observations and suggestions to other ports in the country.  The choice is deliberate because Lagos port accounts for the lion share of the nation's foreign trade, excluding oil.
Scanty, doctored and most times, absence of statistics have remained one of the greatest problems of developmental planning in Nigeria.
The national population census and the general elections results, including the famous, but contentious statistical equation of Nigeria's two thirds of 19 states are pointers to that regard.  So, do not be irked by our inability to come up with the type of statistics you would expect to see.  However, where there is any, be rest assured it is reliable.
In the case of Nigeria, it is true that with concession, we have noticed a remarkable improvement in terms of the average waiting time for vessels which has reduced from about 28 days to a little less than 48 hours.  Container moves per hour has improved from 7 TEUS to an average of 32 TEUS per hour which is also a plus for the economy.  Other indices such as working hours and working days are also improving positively.
To be continued.
Aniebonam, Founder, National Association of Government Approved Freight Forwarders (NAGAFF) presented this paper at a town hall meeting in Lagos recently.
Copyright Ships & Ports Ltd. Permission to use quotations from this article is granted subject to appropriate credit given to www.shipsandports.com.ng as the source.