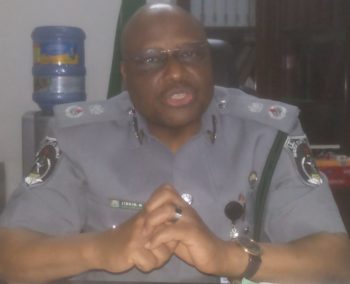 Comptroller Musa Jubril is the Controller, Apapa command of the Nigeria Customs Service. In this interview with Shulammite 'Foyeku, he underlined the improved performance of officers in the area of physical examination of cargoes which has impacted greatly on the revenue profile of the command. He also highlighted the need for agents to improve on their level of compliance to trade regulations to ease trade facilitation, among sundry issues.  
Excepts
You recently met with stakeholders of the command for the first time since your assumption of office four months ago. Why did it take this long?
We are doing other very important things and we cannot do everything at the same time; that is why we needed to buy a little time. We cannot do everything at the same time. Besides, I am just barely four months in office but then it is not like we were sitting and folding our arms are doing other things.
What was your cardinal message to the stakeholders?
The cardinal message was to sensitize everybody because we operate in an international trade system. The intention of the forum was to remind everybody of his own responsibility because it is a chain and when there is a lacuna or little break, everything collapses. So we want everybody to perform his own responsibility the way he is supposed to. We are reminding them that this is the only country we have and everybody must be carried on board so that we can remain on the same platform. On the issue of the exchange rate, we also reminded them that it is a policy of the Central Bank of Nigeria not Customs. It is reflected on every Form M and the form is a document that belongs to CBN. The change in exchange rate is periodically reviewed by a committee in CBN.
Since you assumed office, how will you rate the compliance level of agents?
Compliance level is still not at the level we would have loved to have it and that was what called for the stakeholders' forum, to have everybody onboard and we discuss matters roundly and remind our stakeholders of their responsibilities and then to also re-drum in the ears of our officers their own responsibilities. Though there is a lot of improvement, we are not there yet.
For months, the Customs Processing Centre (CPU) at the command had no electricity which has contributed to delay in documentation of clearance at the command. What effort have you put in place to address the issue?
The issue of NEPA is directly my responsibility but I must tell you this is a problem I inherited and right now I am on top of the matter and I can assure you that within the next two weeks, you will see a difference. We are going to nip the matter in the bud.
How do you intend to address some of the complaints of the agents especially on the delay in clearance due to what they describe as strict measures put in place by officers following the seizure of 661 riffles and allegation that officers do not report for examination on time?
Sincerely speaking as far as physical examination of goods are concerned, we don't expect to slow down on that because the incident of the 661 riffles is something that we don't want to have a repeat of and beside 100 percent physical examination will not be difficult if everybody does what they are supposed to do. We want everybody to be there including the officers to perform their own responsibility including the operators so that everybody will be on the same page. On allegation of officers not reporting for examination on time, I also received a report that agents do not come early for examination too. But then, I intend to look into that and see the reality of what is on ground so that whoever is not doing the needful will be asked questions. On the role of other security agencies, we are planning to have a similar forum with the police and other security agencies in the port so that we can bring this issue to the table especially as it concerns interference in the release of cargoes so that we can address them once and for all.
What would you say about the complaint of incessant alert issued by the command?
The reason for alert is based on observed infraction and intervention can come from everywhere and in the first place if there is no infraction, there won't be any need for valuation officers to do anything on a matter like that not to talk of asking the APM to intervene. It is often based on intelligence and that will guide the examining officer on the need to be careful.
You made an impressive revenue figure of N25.9billion in February compared to N23.5billion that was generated in the corresponding period of last year. How did you achieve this?
The feat was due to the cooperation of the officers, agents and other operators at the port. We have improved on our level of supervision and also to sensitize everybody that has a stake in the business of clearance of goods. The officers have also been given additional training and advised to be more patriotic and ensure that they collect the right duty on all imports. Similarly, we have beefed up our effort towards exploring other possible means of generating revenue. For example, we made sure that every PAAR that is issued and money that is hanging on it as duty and other charges is being appropriately paid for. We also make sure that all bonds domiciled in the account that are supposed to be redeemed are redeemed. Most importantly, we ask officers to improve on their level of physical examination of goods and to some extent, we have achieved a lot in that direction and that has reflected in our revenue which is better than the ones generated in the past.
What is the latest development concerning the investigation on the seizure of the 661 riffles?
We have submitted our two interim reports and the third one is in the offing. All the officers that are directly involved have been detained and useful information collected from them. We did not stop at that we also had the importer, his agent and some of the agents who also work with the agency that cleared the consignment. and in the course of examination we discovered that they also had something to do with the declaration. They have also been rounded up and statements taken. So investigation is still ongoing.
How long will it take to conclude the investigation?
We are almost done because we want to make it holistic this time around. We are not thinking of narrowing this investigation to customs officers alone, we have taken statements from others directly involved.
What challenges do officers posted in such trade zone have to contend with?
Our officers are stationed there but nobody has reported any challenge to me. I have not got any compliant from officers at the moment. They are just performing their duties at the terminals and customs houses everywhere. The same type of challenge we have in any other place could be the same challenge you see there, though not very serious.
Copyright Ships & Ports Ltd. Permission to use quotations from this article is granted subject to appropriate credit given to www.shipsandports.com.ng as the source.