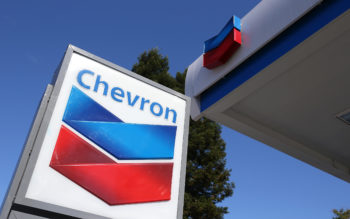 American oil major, Chevron, says for the achievement of sustained investment and growth in the oil and gas industry in Nigeria, there must be a collaboration by all stakeholders.
The Chairman/Managing Director, Chevron Nigeria Limited (CNL), Jeff Ewing stated this while contributing to a panel discussion on "Unlocking Nigeria's Investment Potential," at the Nigerian Oil and Gas (NOG) conference in Abuja.
He stressed that the current relative stability in the global oil market presents an opportunity for both the industry operators and the government to assess the industry and provide enduring solutions.
Ewing explained that the industry has an opportunity in rejuvenating old frontier basin exploration, to discover impact resource additions for strategic reserves replacement and growth and opportunities to continue to enhance efficiency and reduce cost.
While stressing the expected government's focus on creating an enabling environment for investment to thrive and developing new oil and gas fiscal policy that are globally competitive, he applauded the efforts of the government and the Nigerian National Petroleum Corporation (NNPC) in addressing the issue of Joint Venture (JV) cash call arrears.
Ewing also mentioned some steps to ensure growth of the Nigerian gas sector which include efforts in driving initiatives in effective utilization of the nation's abundant gas for achieving the goal of energy security, and enacting fiscal terms that encourage the development of small to mid-sized assets as well as non-associated gas fields.
Other measures to advance the gas sector, according to him, include the establishment of a competitive deep-water gas fiscal framework, the commitment to supporting and enabling 'willing buyer – willing seller' gas pricing model, and the development of strategy for legacy payments for gas sold to the domestic power market.
He said that CNL continues to sustain efforts towards delivering exploration and production projects and activities as well as making significant investments in gas projects, and some of the accomplishments include the $1.2 billion gas and condensate project scope that include drilling, major rig workovers and associated facilities as well as ongoing offshore and onshore drilling campaigns.
Ewing emphasized CNL's efforts in playing a lead role in growing supply of high-quality domestic gas and monetizing liquid rich gas reserves; the reduction of routine flaring by over 90 per cent in the past 10 years as well as the significant successes in Nigerian content development. Chevron contributes 41 per cent of the total domestic gas supply in Nigeria, according to DPR statistics.
Chevron, he said, is proud to partner the Nigerian government to actualize progress in Nigeria's oil and gas sector for over 50 years adding that with the right policies, the enormous potential of Nigeria's oil and gas sector can yield even greater benefits.