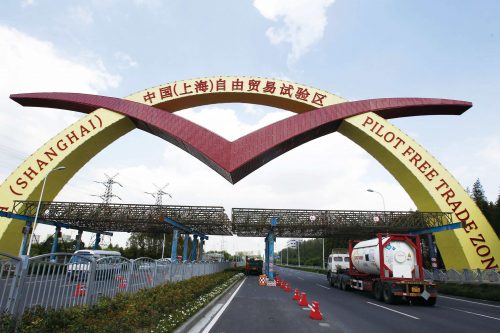 China is expanding its free trade zones (FTZ) scheme adding six pilot free trade zones as it continues to push for reform.
China's State Council announced six new provincial pilot free trade zones in Shandong, Jiangsu, Guangxi, Hebei, Yunnan and Heilongjiang, which will make the total number of China's free trade zones to 18.
According to the plan, the six new pilot FTZs will be developed with differentiated reform experiments.
The development of the marine economy and exploring co-operation opportunities among South Korea-Japan-China are the focuses for the pilot FTZ in Shandong.
Supporting innovation and development of the manufacturing industry, improving overseas investment cooperation and strengthening financial market development are the focuses for the pilot FTZ in Jiangsu.
Guangxi, located at southwest China, will deepen cooperation with the ASEAN region and develop land-sea transportation connection.
Building a new industrial base and supporting international trading are part of the plan for Hebei.
Yunnan will strengthen international cooperation on technology sector and cross-border economy.
Heilongjiang will focus on logistics services development for Russia and Northeast Asia.
"The new pilot FTZs will highlight innovation, further opening-up, high-quality development and integration with major national strategies," said Wang Shouwen , Vice Minister of the Ministry of Commerce.
China launched the first pilot FTZ in Shanghai in 2013, and then established eleven more. This summer, China expanded Shanghai pilot free trade zone with the addition of a new section.